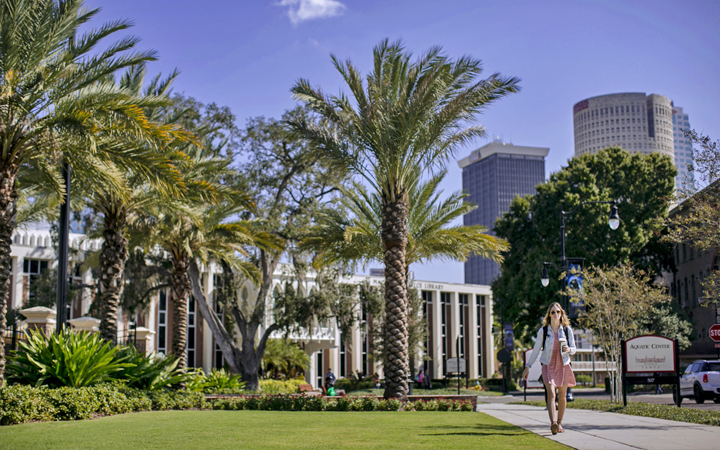 Facts and Figures, 2019-2020
9,600 students enrolled for Fall 2019
23 consecutive years of record enrollment
Approximately 50% of students from Florida
Students from 50 states and 132 countries
About 1,400 international students
Most full-time students live in campus housing
Approximately 2,300 degrees conferred annually
Annual Costs
Full-time Undergraduate:

Graduate Programs: $637/credit hour
Continuing Studies: $443/credit hour
Executive MBA Program: $50,115/two-year program total
MFA in Creative Writing: $8,570/semester plus residence fee
Financial Aid
Academics
Over 200 academic programs of study
Four Colleges: College of Arts and Letters, College of Natural and Health Sciences, College of Social Science, Mathematics and Education, Sykes College of Business (AACSB accredited)
Graduate Studies: 16 master's, one doctorate, two certificates, 10 concentrations and three 4+1 programs — three MBA programs (eight concentrations), M.S. in Accounting, M.S. in Business Analytics, M.S. in Cybersecurity, M.S. in Entrepreneurship, M.S. in Finance, M.S. in Marketing, M.Ed. in Curriculum and Instruction, M.Ed. in Educational Leadership, M.S. in Instructional Design and Technology, M.S. in Exercise Science and Nutrition, M.S. in Nursing (two concentrations), Doctor of Nursing Practice, Master of Physician Assistant Medicine, M.S. in Criminology and Criminal Justice and M.A. in Professional Communication, Certificates in Cybersecurity and Nonprofit Management, plus 4+1 programs in the MBA, M.Ed. in Curriculum and Instruction and M.S. in Criminology and Criminal Justice.
Average SAT: 1,190 (2016 SAT scale)
Average GPA: 3.45 (on a 4.0 unweighted scale)
Most Popular Undergraduate Majors*
Learning Communities
Financial Facts
Projected annual revenue: $330 million and assets: $736 million as of September
1,650 full-time, part-time and vendor-contracted employees
1,700 students employed on campus
Fundraising: $14 million (2018-2019)
Annual economic impact: $1.1 billion
$650 million in new construction completed or underway since 1998
Campus Facts
New Facilities
Health Science and Human Performance Building
Schoomaker ROTC and Athletics Building
Sykes College of Business Building
Vaughn Center (includes Student Center, Reeves Theater, Conference/Seminar Center and Barnes & Noble University Bookstore)
Cass Science Annex
Seven new residence halls
Poe Parkway Campus Grand Entryway
Two parking garages for 2,900 cars
MacKechnie Academic Building
Numerous new food venues including Chick-fil-a, Dairy Queen, Einstein Bros. Bagels, Tsunami Sushi and Starbucks
Riverside Academic and Administrative Center
Cass Science and Communication Buildings
Athletic facilities for soccer, softball, baseball and swimming
Thompson Facilities Complex and Chiller Plant
East Walker and North Walker Academic Buildings
16-element Outdoor Leadership Challenge Course
Kennedy Boulevard Academic Building
Graduate Health Studies
Southard Family Building
Digital Arts and Fab Lab
Campus Additions Underway
Plant Hall renovations
Ferman Center for the Arts
Science Research Laboratories
Campus Life
Over 10,000 student organizations, residence hall, University and community events
Almost 300 student organizations, clubs and teams
28 different food venue choices in five campus locations
Eight campus publications
Intramural sports, sport clubs and student recreation programs
54 categories of intramural sports and tournaments, up to 60 group fitness classes weekly, personal training services and free bike rentals
Recreational activities include canoeing, sea kayaking, paintball, paddle boarding, tubing, indoor rock climbing, water biking and day hikes
More than 300,000 student and employee service hours provided annually to 300 community organizations
Alternative Break Program includes nine service experiences, domestic and international community service experiences
Army, Air Force and Naval ROTC units
Over 25 student-led health and wellness initiatives
Numerous diversity programs, including Diversity Advisory Group, Diversity Fellowship, Spartan Sustained Dialogue and UT Pride
Career Services hosts over 400 events and 600 companies on campus with over 25,000 jobs and 5,000 internships posted to Handshake annually
Spartan Athletics
UT Spartan teams have won 18 NCAA II National Championships — eight in baseball (1992, 1993, 1998, 2006, 2007, 2013, 2015, 2019), three in men's soccer (1981, 1994, 2001), two in golf (1987, 1988), three in women's volleyball (2006, 2014, 2018), one in beach volleyball (2019) and one in women's soccer (2007)
Spartan teams have won

105

Sunshine State Conference titles
NCAA Division II Teams
*Non-NCAA
Club Sports
Club Sports are coordinated by students and compete regionally and nationally.
And DID YOU KNOW?
All campus buildings are wired and connected via fiber optic cable, and campus features approximately 1,550 wireless zones.
There are 50 computer labs on campus.
800 community leaders are involved at UT on various boards and advisory groups.
90% of full-time faculty have doctorates or the highest degree in their field.
96% of all students who apply to graduate school are admitted.
95% reported success in achieving their post-graduate goals.
UT is in the top tier of U.S. News and World Report's "America's Best Colleges."
UT is ranked by Princeton Review as a "Best College."
UT's Sykes College of Business is listed in Princeton Review's "Best 300 Business Schools."
UT's intramural sports program was named one of the top 50 programs in the nation by BestColleges.com.
Comparative University Profile
1931
2019
Enrollment
(Full Time)
67
9,600
(8,600)
States Represented
1
50
Countries Represented
1
132
Tuition/Fees (annual@12 hrs./sem.)
$232
$29,2992
Faculty
12
688
Assets
$29,039
$736 million
Classes
32
5,500
Buildings
1
70
Accrediting Approving Agencies
0
15
Annual Revenue
$20,000
$330 million
Annual Economic Impact
$100,000
$1.1 billion
Population*
- City of Tampa
101,161
392,890
- Hillsborough County
153,519
1,410,115
- Metropolitan Area
231,190
3,142,663
- Florida
1,468,211
21.65M
*Figures given for 1931 are from 1930 U.S. Census. The 2019 current population figures are based on resent researched estimates by the U.S. Census Bureau. Tampa-St. Petersburg-Clearwater metropolitan area was not yet designated in 1930, but 1930 figures inclusive of the same area are given for comparison. The metro area includes Hillsborough, Pinellas, Pasco and Hernando counties.
---