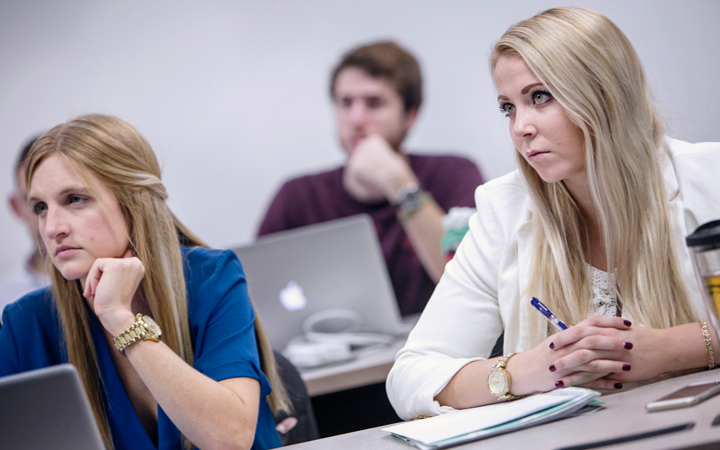 The marketing degree encompasses the fields of advertising, promotion, sales, research, international marketing and more. It involves such business-critical activities as the analysis of competitive behavior, the development of new products, and the management of relationships with suppliers, distributors and consumers, to name a few.
The marketing department's principal focus is on the domestic and global aspects of the marketing function, including marketing strategy, marketing research, sales management and communications. The program teaches students to unravel the complexities of marketing in both profit and nonprofit organizations and manage both goods and services. Courses cover domestic and international marketing, ethical decision making and the role of the marketer in developing company strategy.
In addition to coursework, students gain valuable on-the-job experience by working on major marketing projects for area businesses and organizations. These projects last a full semester and include marketing research consulting and the development of integrated marketing communications campaigns. In addition, computerized simulations allow students to experience the consequences of decisions made in the areas of product development, pricing, promotion, marketing research, sales compensations, cost containment and scheduling.
UT marketing interns have worked in promotions, consumer product management, hi-tech marketing, market research, and strategic marketing at organizations such as Bank of America, Tampa Tribune, GEICO, and Hughes Corporation. In addition, alumni are employed by Sykes Enterprises, Prudential Securities, BP, PricewaterhouseCoopers and many more.
Topics of Study
Various roles and functions that marketing fulfills in society
How marketing reacts to and affects the business environment and society
Consumer decision-making process
Business-to-business marketing and the organizational buying process
Components of marketing strategy, including segmentation, targeting and positioning
How marketing activities differ for services, ideas and other intangible products
Marketing management in both profit and nonprofit organizations
How marketing roles and functions are adapted for international markets
Nature of ethical and socially responsible marketing decisions and behaviors
Role of high technology in marketing functions
Marketing Minor
A minor in marketing is also offered.
On-Campus Associations
---
---

The Sykes College of Business is accredited at both the graduate and undergraduate levels by AACSB International.
---