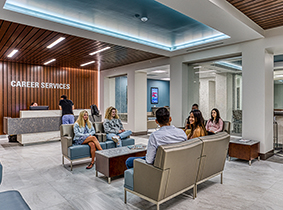 The Office of Career Services serves as a bridge between students' college experience and life after UT. Starting the first year at UT and continuing beyond graduation, we are here to help students explore who they are and their career options, connect their experience — whether it is academic, campus involvement and engagement, internships or work experience, to careers or graduate school – and achieve their post-graduation goals.
The Career Services staff wants you to know that we are here for you during this unique and challenging time. In light of COVID-19, the Office of Career Services is happy to help virtually, whether you are looking to EXPLORE careers, searching for your next EXPERIENCE or seeking to ACHIEVE an internship/full-time job.
Resources at a Distance (PDF) Fall 2021 Schedule of Events
What are UT students up to after graduation?
95% of graduates reported success in achieving their post-graduate goals.
A sample of employers that hire UT grads include Citi, Tampa Bay Lightning, Tampa Bay Rays, Bloomin Brands, Raymond James, PwC, Jabil, L'Oreal, Disney, Tampa General Hospital, BayCare, KnowBe4, Reliaquest, Tech Data, USAA, Coca-Cola, Georgia Aquarium, Amgen, Bristol Myers Squibb, Hillsborough County Public Schools and Hillsborough County Sheriff's Office.
For more information on graduate outcomes data, visit UT's Student Outcomes Data.
Phone: (813) 253-6236 | Email: hireut@ut.edu | Fax: (813) 258-7271
Location: Southard Family Building 117 | Mailbox: Box K
---