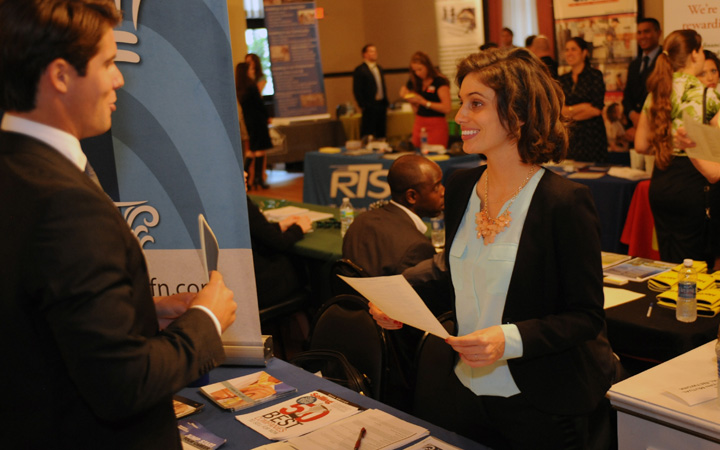 A wide variety of services are available to University of Tampa alumni. Alumni are welcome to participate in all career services workshops and events. Additional services include the use of Handshake, an online job posting system with employer and volunteer mentor contacts, and other resources listed on our website. Contact Career Services for more information.
Resources for Alumni
Social Networks
Recent statistics indicate that only 20 percent of positions are advertised on the internet, yet 100 percent of job candidates are applying through the internet. Whether you are conducting your job search in Florida or in another state, or are satisfied with your current employer but seeking to position yourself for a promotion, consider developing a personalized career management or job search plan and utilize all of your resources to navigate to your goals. When utilizing networking websites such as LinkedIn, a good general rule is to assume employers may review anything you post on a networking site and that your information is not private.
UT mentors and employers
Alumni may also benefit from utilizing resources such as UT mentors and employers who have volunteered to be contacted to provide industry information, information interviews, practice interviews, as well as resume critiques. One-Stop Career Employment Centers, available in each state, can help you to further sharpen your job search or career management plan. Career fairs held at universities in your state provide yet another potential resource for the job-seeking candidate. Don't forget to register with the UT Alumni Office and update your information accordingly, as there may be networking opportunities in your area with other UT alumni.
Employee Assistance Program (EAP)
Leveraging all of your resources is a critical component to a successful job search. In addition to the services above, alumni who are currently employed may be entitled to Employee Assistance Program (EAP) resources through your employer. EAP resources may include career counseling appointments paid for by your current employer, which are confidential and in many cases held off-site through EAP providers such as Magellan and others.
---