Prestigious. Connected.
The Sykes College of Business draws together talented faculty, sophisticated technology and cutting-edge curriculum to provide students with the tools to succeed in a changing world. Highly qualified students of diverse ages and backgrounds receive advanced training in an array of disciplines from faculty members with a pulse on the business community.
At the Sykes College of Business, we are proud of the features that distinguish us among the world's top business programs, such as the following:

Highest Accreditation: AACSB International
The Sykes College of Business is an elite private school accredited at both the graduate and undergraduate levels by AACSB International (the Association to Advance Collegiate Schools of Business).
Princeton Review
Since 2007, The University of Tampa's Sykes College of Business has been named by the Princeton Review as one of the best business schools in the world. The Princeton Review features the school in The Best 251 Business Schools: 2019 Edition.
Bloomberg Businessweek
For the third year in a row, UT's Sykes College of Business full-time MBA program is on Bloomberg Businessweek's list of Best Graduate Business Schools. In 2018, UT was ranked 85th in the U.S. and 34th for its entrepreneurship program. Bloomberg Businessweek
TFE Times
The Master of Science (M.S.) programs at the Sykes College of Business have been ranked in the TFE Times' list of 2017's Best Programs Rankings. Particularly, the master's in marketing and finance programs are ranked at 28 and 46, respectively. UT's M.S. in Accounting program is also ranked at number 79.

Marketing Program Rankings

Finance Program Rankings

Accounting Program Rankings
Innovative Curriculum
Our uniquely designed curriculum promotes business fundamentals with an understanding that tomorrow's innovation and technology are essential for business success.
Outstanding Faculty
Our highly respected faculty have achieved national and international reputations for academic and business success in their fields. Ninety-seven percent hold doctorate degrees and 80 percent have practical business experience.
Experiential Learning
The Sykes College of Business encourages real world learning. Each graduate business program features experiential learning through client projects, internships, case studies, consulting, strategic planning, and data collection and analysis. The college's robust international travel programs help students incorporate a global view into their studies.
High-Tech Facilities
From managing investments in our Huizenga Family Foundation Trading Center to hands-on training in SAP and other enterprise systems, our graduate business students access the most current technology through their coursework.
Apply
Start the admissions process today!
Apply Now
Email
Contact the Office of
Graduate and Continuing Studies
Phone: (813) 253-6249
Video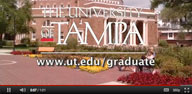 Watch our Graduate Programs videos!
Playlist: Graduate Programs