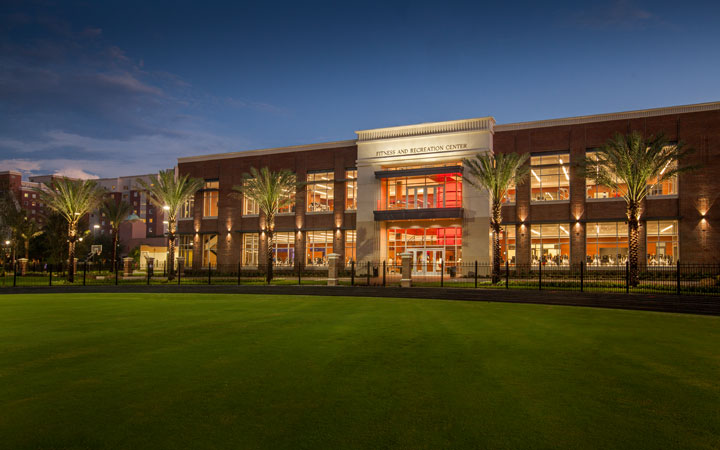 The Fitness and Recreation Center is currently open Monday through Friday 6:30 a.m. to 10 p.m., Saturday 9 a.m. to 7 p.m., and Sunday noon to 10 p.m. Also, find virtual classes, workout ideas, and other ways to stay active and involved on our Instagram, @UT_rec.
Please watch the video below to see what's changed and how we'll all keep each other safe.

To further enhance campus life and students' co-curricular experience, The University of Tampa offers a fitness center in the heart of the UT campus. The building features high ceilings, open rooms and liberal use of glass to allow for sunlight and a connection to the outdoors. The open floor plan is intended to enhance visibility, foster social interaction and build community.
Virtual Tour of the Fitness Center
The fitness center is a centrally located, one-stop shop for all exercise programs, personal training and evaluation, wellness and nutrition programs, intramurals, recreation activities, club sports and some exercise related laboratory and research activities.
Specifically, the center features six group exercise rooms, which includes an indoor cycling room. Two small fitness assessment rooms are available, as well as a "flexible" classroom to allow for educational and training functions. A large number of Precor cardio machines (treadmills, stationary bikes, elliptical and adaptive motion trainers) as well as free weights, plate loaded and selectorized machines are available for students, faculty and staff. The center also includes offices for Campus Recreation and related staff, as well as lockers.
---
---
Resources
---
Hours of Operation
The Fitness and Recreation Center is now open. Follow us on Instagram, @UT_rec.

Monday to Friday, 6:30 a.m. to 10 p.m.
Saturday, 9 a.m. to 7 p.m.
Sunday, 12 to 10 p.m.