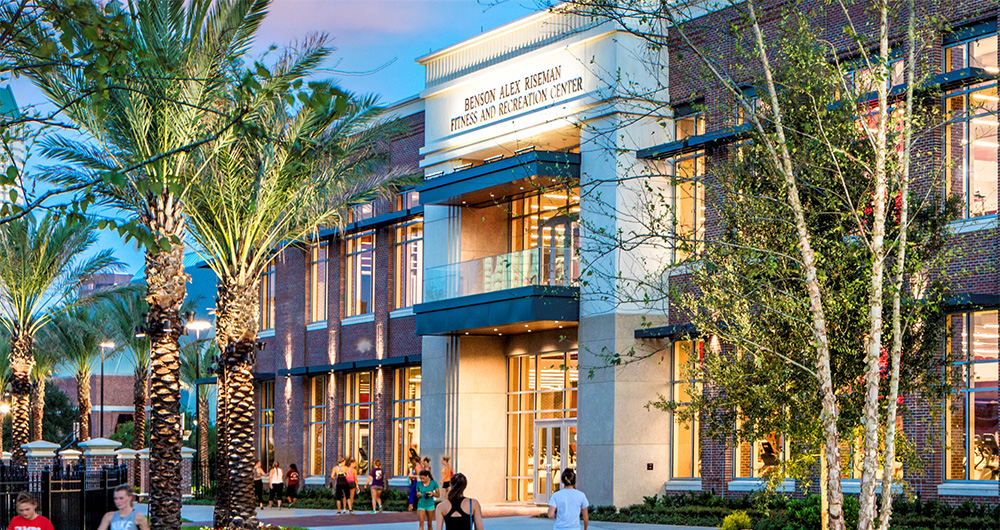 To further enhance campus life and students' co-curricular experience, The University of Tampa offers a fitness center in the heart of the UT campus. The building features high ceilings, open rooms and liberal use of glass to allow for sunlight and a connection to the outdoors. The open floor plan is intended to enhance visibility, foster social interaction and build community.
Virtual Tour of the Fitness Center
The fitness center is a centrally located, one-stop shop for all exercise programs, personal training and evaluation, wellness and nutrition programs, intramurals, recreation activities, club sports and some exercise related laboratory and research activities.
Specifically, the center features six group exercise rooms, which includes an indoor cycling room. Two small fitness assessment rooms are available, as well as a "flexible" classroom to allow for educational and training functions. A large number of Precor cardio machines (treadmills, stationary bikes, elliptical and adaptive motion trainers) as well as free weights, plate loaded and selectorized machines are available for students, faculty and staff. The center also includes offices for Campus Recreation and related staff, as well as lockers.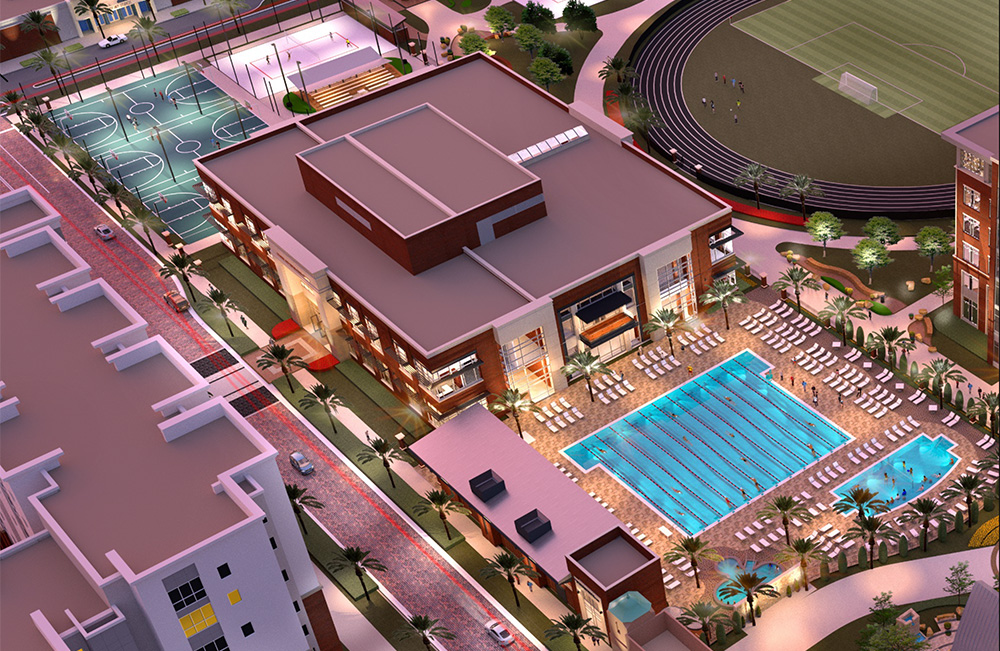 Phase II
(2)

of the Benson Alex Riseman Fitness and Recreation Center

Phase II (2) of the Benson Alex Riseman Fitness and Recreation Center and Benson Alex Riseman Aquatic Center to be completed in Spring 2022 will feature:
Expanded free weights and strength training
A functional training space
Academic classrooms, health sciences and human performance research and lab space, faculty offices and study spaces
Expanded space for BikeUT, UT's university-wide bike loaner program
Three new basketball courts and a reconfigured beach volleyball complex
A new 32,000-square-foot aquatic center that will feature an 11-lane, 25-yard, competition-sized pool, a small recreational pool and a clover leaf-shaped hot tub
Spartan swimming team offices, locker rooms and facilities for UT coaches and the mens' and womens' swimming teams
A two-story pool house
---
---
Resources
---
Hours of Operation
The Benson Alex Riseman Fitness and Recreation Center is currently CLOSED and will reopen for the fall semester Sunday, Aug. 29, with the following hours:
Mondays through Fridays from 6:30 a.m. to 10 p.m.

Saturdays from 9 a.m. to 7 p.m.

Sundays from 12 p.m. to 10 p.m.
Follow us on Instagram, @UT_rec.