Published: October 23, 2020
UT Announces Phase II of Fitness and Recreation Center; Facility To Be Renamed After Lead Gift From Alumnus
The University of Tampa has announced the commencement of phase II of the Fitness and Recreation Center, which will add additional workout and exercise space, along with a new aquatic center, beach volleyball complex and basketball courts, as well as academic classrooms, offices and laboratory spaces.
The beginning of the second phase was boosted by a large gift from Benson Riseman, a UT alumnus and longtime supporter of the University. As a result, the completed facility will be named the Benson Alex Riseman Fitness and Recreation Center.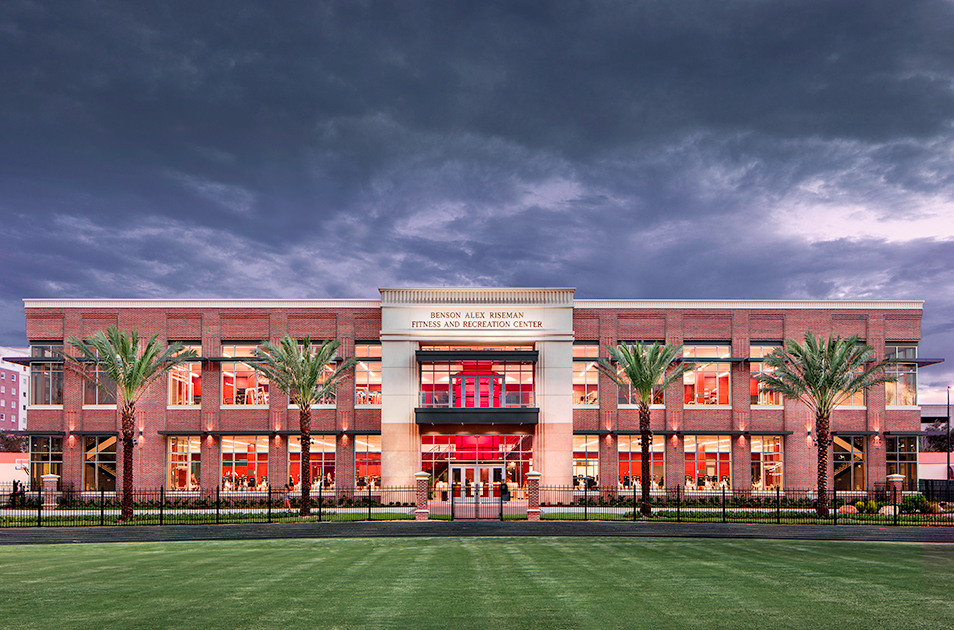 The entire facility is to be renamed the Benson Alex Riseman Fitness and Recreation Center after a large gift from the alumnus.
Phase I of the Fitness and Recreation Center opened in September 2016 as a two-story, 40,000-square-foot facility that houses exercise programs, personal training and evaluation, wellness and nutrition programs, intramurals, recreation activities, club sports, and some exercise-related laboratory and research activities.
Phase II of the Benson Alex Riseman Fitness and Recreation Center will also be two stories and will feature:
More workout spaces and state-of-the-art equipment, including dedicated areas for free weights and strength training
A functional training space
Academic classrooms (including two 70-seat classrooms), faculty offices and study spaces
Individual study spaces and work stations
Teaching and research space for programs in exercise and nutrition science, and in health sciences and human performance
Expanded space for BikeUT, UT's university-wide bike loaner program
When expansion of the main building is nearing completion, construction of the outdoor elements of the center will begin.
Immediately adjacent to the Riseman Fitness and Recreation Center to the west will be three new basketball courts and a reconfigured beach volleyball complex, complete with mini-stadiums for all three courts.
Also, immediately east of the building will be a new 32,000-square-foot aquatic center that will feature an 11-lane, 25-yard, competition-sized pool, a small recreational pool and a clover leaf-shaped hot tub. Spartan swimming team offices, locker rooms and facilities for UT coaches and the mens' and womens' swimming teams will be integrated into the Riseman Fitness and Recreation Center. Additionally, a separate, two-story pool building — the Benson Alex Riseman Pool House — will be built to feature a large viewing platform, visiting team facilities, restrooms and storage.
Including the aquatic center and courts, the entire recreational complex will measure more than 128,000 square feet.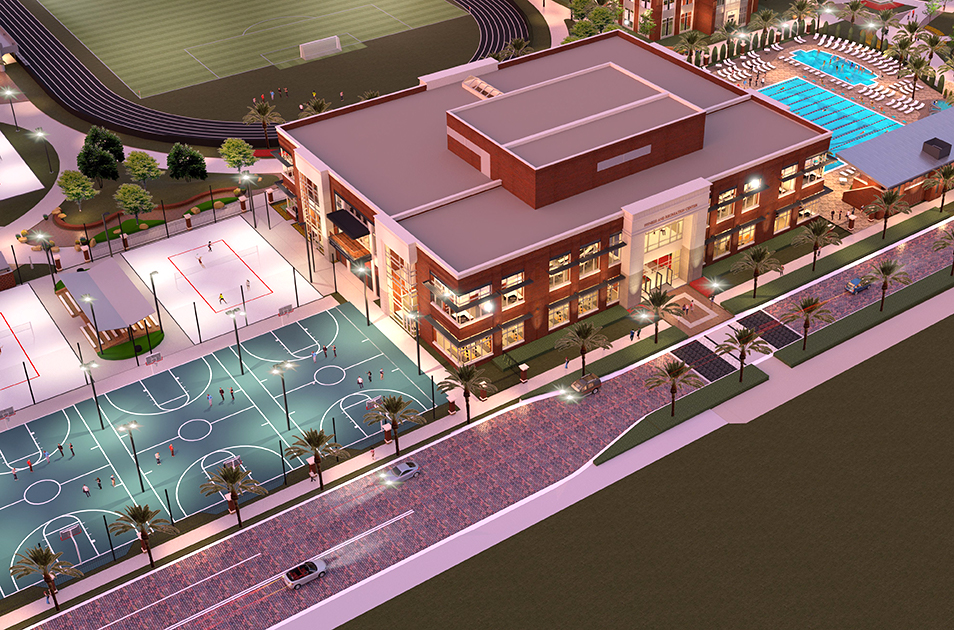 Phase II will expand the current Fitness and Recreation Center to 60,000 square feet and include expanded and reconfigured workout and exercise space, as well as teaching and research facilities.
UT President Ron Vaughn said the existing fitness center has been extremely popular with students, and sees phase II as part of a long-term strategy to help students stay healthy, relieve stress, have fun and be fit. The expanded facility will also appeal to prospective students and will help the University recruit top students, Vaughn added, especially those students who value healthy lifestyles.
"We know that fitness helps students excel academically, and especially given the past six months, students need more than ever the kind of health and wellness that a facility like this will provide," Vaughn said. "I am grateful to Benson for helping us get started on phase II of the project. This expansion has been a part of the University master plan for many years, and it will make this recreation center one of the very best in the country for many years to come."
Riseman, who was known by his middle name, "Alex," in college, is a member of the UT class of 1978. He has been involved heavily with UT's Lowth Entrepreneurship Center as an advisory board member, student mentor and major donor, and is a current member of the UT Board of Trustees. He said his gift was motivated by both the urge to leave a legacy at UT and his interest in healthy lifestyles. Plus, as co-chair of the Board of Trustees' Development Committee, he is eager to set a tone for campus philanthropy and hopes to encourage other alumni to support the University.
"While I have a passion for entrepreneurship, I like that the fitness and recreation center will be open for all students. It doesn't matter your major or interests — it's all part of the University's commitment to help students strengthen their mind, soul and bodies," Riseman said.
Riseman, a successful entrepreneur, lives in Las Vegas with his wife, Lee Riseman. Both are fitness enthusiasts and promote good health. Lee, who is also a seasoned entrepreneur and now works as a luxury real estate broker, said Benson is pleased to be making such an impact on the lives of UT students. "The University of Tampa means a lot to Benson. It helped him grow into who he is today. He is excited and pleased to give back."
Architecturally, the building features in phase II will mirror the existing building, with high ceilings, open rooms and liberal use of glass to allow for sunlight and a connection to the outdoors. Some parts of the current facility will be reconfigured to optimize the space. The building will have two main entrances: the existing one to the north and a new one to the south, toward Spaulding Drive.
Construction of phase II will start this spring, and the expansion is expected to be completed in Spring 2022. Buildings that currently exist in the center's phase II footprint — which are approximately 100 years old — will be demolished. The lead architect on the project is Eric Kreher of Kreher Architects Inc., and the general contractor is yet to be determined.
In alignment with UT's commitment to environmental stewardship, the new building will be designed and constructed to be a candidate for Leadership in Energy and Environmental Design (LEED) certification by the U.S. Green Building Council. If successful, it will be UT's seventh LEED-certified building.
When complete, the center will be for the exclusive use of UT students, faculty and staff.
More about Benson Alex Riseman
Originally hailing from the Boston area, Riseman graduated from UT in 1978 with a bachelor's degree in business administration. Active in various areas on campus, Riseman was a pitcher and four-year letterman for the baseball team, served as a senator in the Student Government Association, founded the Varsity Athletic Association for student-athletes, served as a resident assistant and served as chief justice of the student judicial system. He also worked on the yearbook staff and was a member of Omicron Delta Kappa, a national leadership society.
After graduating from UT, Riseman went on to enjoy a 20-year career in radio broadcasting, working in local, national and network managerial/sales positions for companies including Metro Networks, CBS, Westinghouse, Greater Media, Paxson Broadcasting, Capitol Broadcasting and RKO General. In 2000, he co-founded Green Dot Corporation, the inventor and largest provider of the reloadable prepaid debit card in the U.S. He continued his responsibilities until the company went public on the New York Stock Exchange in 2010.
Riseman is currently founder, president and CEO of BENSEA Enterprises, an entrepreneurial think tank and consultancy specializing in business strategy, branding, marketing and revenue generation. Riseman is also actively involved in philanthropic projects nationwide with his wife, Lee Riseman, as well as through the Riseman Foundation, and serves on three nonprofit advisory boards, in addition to serving on UT's Board of Trustees. Riseman also co-chairs the Board's Development Committee and serves on the Executive Committee of the Board.
Lee founded a nationwide market research firm early in her career, before transitioning industries and opening one of Nevada's most exclusive boutique real estate brokerages. She currently specializes in residential real estate with Luxury Estates International brokerage, where she consistently ranks among the leading female real estate professionals in Las Vegas. Lee is a community leader and serves on the board of directors for the Nevada Ballet, as well as the Riseman Foundation. She is also actively involved with the arts, is an animal advocate and is a lead donor to the Riseman Family Theatre in the Las Vegas DISCOVERY Children's Museum.
Riseman's gift comes at a critical time to help keep the tremendous momentum for The University of Tampa on its upward trajectory. UT continues with strong enrollment, and campus construction and external recognitions of the University's success are at an all-time high.
---