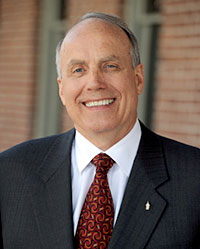 UT President Ronald L. Vaughn
Ronald L. Vaughn has served as president of The University of Tampa since January 1995. Under his leadership, the University has grown and expanded unlike any period in its previous history. During his tenure, University full-time enrollments have more than quadrupled, new enrollment records have been set in each of the last 23 years and academic programs have been expanded to more than 200 areas of study, including 16 master's, one doctorate, two certificates, 11 concentrations and three 4+1 programs in the fields of business, criminology, cybersecurity, education, exercise science, nursing, writing and physician assistant medicine.
Since 1995, the University's annual budget has increased by over 10 times from $28 million to $330 million for the 2019 academic year. The record growth has fueled dynamic improvements in both the academic and student life areas. Over 600 new faculty, staff and vendor-contracted positions have been added during the past 24 years. Since 1997, UT's campus has been totally transformed by 45 completed or underway construction projects totaling $650 million in value.
In addition to spearheading the expansion, President Vaughn has acquired more community-based financial support than any UT President before him. Among fundraising achievements, the University has raised about $250 million in its first two comprehensive capital campaigns and the third campaign now underway.
President Vaughn came to The University of Tampa in August 1984 as the coordinator of the marketing department and holder of the Max H. Hollingsworth Endowed Chair of American Enterprise. He also served as director of the MBA program, dean of the College of Business and Graduate Studies, and co-chief academic officer.
President Vaughn has a bachelor's degree in marketing and an MBA from Indiana State University, and a doctorate in marketing from the University of Georgia. He also owned his own multi-office marketing research/consulting company where he worked on several hundred projects for a broad clientele. During his academic career at Bradley University, he served as a faculty member and chairman of the marketing department.
President Vaughn is active in various community service and leadership roles. He has served on numerous boards including the Straz Performing Arts Center, the Gulf Ridge Council of the Boy Scouts, the Greater Tampa Chamber of Commerce and the Florida Aquarium. He is a past Board Chair of the Tampa/Hillsborough Economic Development Corporation and served on the Tampa Downtown Partnership Board, among others.
President Vaughn has received many honors and recognitions. Most recently in 2013 he received University of Georgia's inaugural "Graduate Alumni of Distinction Award," in 2014 he received a regional "President's Award" from the National Association of Student Personnel Administrators, in 2016 was named the South Tampa Chamber "Citizen of the Year" and in 2017 received the "William M. Burke Award for Excellence in Experiential Education." In 2019 Vaughn was named to the Florida Trend magazine "Florida 500," which is a list of Florida's most influential business leaders, and received the Outstanding Eagle Scout Award from the Greater Tampa Bay Area Council Boy Scouts of America.
President Vaughn enjoys fishing, pheasant hunting, tennis, basketball and traveling. His daughter, Susan, is a University of Tampa graduate and graduated with her veterinary medicine doctorate from the University of Florida. His wife, Renée, is the president of the Williams Consulting Group, a public relations and marketing firm in Tampa. She is active in the Tampa Bay community as past chair of the Leadership Tampa Class of 2014, past chair of Leadership Tampa Alumni and past-president of both the Red Cross Angels and the HB Plant Museum. In 2015, she received the prestigious Parke Wright III Leadership Award from Leadership Tampa Alumni and was named a Woman of Distinction by the Girl Scouts of West Central Florida. She was the 2016-2017 Chair of the Circle of Red for the American Heart Association, and in 2019, Renée received the Leadership Award presented by Working Women of Tampa Bay.
Contact Information
The Office of the President is located in Plant Hall, Room 100. To contact the president's office, email president@ut.edu or call (813) 253-6201. Please send mail to:
Office of the President
The University of Tampa
401 W. Kennedy Blvd., Box A
Tampa, FL 33606-1490
---