Majors
The majority of upper-level courses in the department's majors/concentrations are taught by full-time faculty, so they get to know each student on a personal level and spend time one-on-one mentoring them on their future career goals and aspirations. The department prides itself on high-quality individualized instruction, focusing on the personal growth and achievements of each student, to ensure educational growth and success.
BFA in Art
B.A. in Visual Arts
BFA in Graphic Design
B.A. in Design
B.A. in Art Therapy
B.A. in Museum Studies
Minors
What Sets Us Apart
UT's foundations program is intended to provide a solid experience of concepts, methods and issues that are common throughout a wide variety of art and design disciplines. The foundations program encourages students to acquire essential technical, conceptual and theory-based skills for their development as visual arts professionals. Students will experience interdisciplinary, traditional and innovative approaches to artistic production through various forms and materials. Each course will challenge and inspire them to translate ideas across 2D, 3D and 4D modes. The foundation courses act as a support for and bridge to upper-level visual arts areas within the Department of Art, and help build the basis for the value of an art/design degree, which gives students some of the most important skills for the 21st century.
Each of the courses is taught by professional artists. This is a unique opportunity to gain insight and direction early in a student's development. One section of each of the five foundations courses are reserved for first-year majors only, ensuring students get the classes they need during their first year of study, preparing them for success in their field and on track to graduate in four years. This also promotes a sense of camaraderie and family as their first-year art courses are taken with the same cohort of like-minded peers. In addition, students have 24-hour access to the art studios, to grant them space and time to work outside of class, according to their rhythm and needs.
Accredited
National Association of Schools of Art and Design (NASAD)
Visiting Artist Program
We bring the world of art and design to you with our Visiting Artist Program as we work with many renowned artists, who exhibit and discuss their own work, participate in critiques of student work and lead two- to three-day intensive workshops. This provides the opportunity for you to collaborate hands-on with these professionals. Recent visiting artists include:
Experiential Learning
We bring you into the art and design world. Our faculty value experiential learning; we engage you in and outside the classroom in many ways. We attend openings and events with you at many local galleries, the St. Petersburg Museum of Fine Arts, Salvador Dali Museum and the Tampa Museum of Art, which is in walking distance from campus just over the river. Our students enjoy free entry to the Tampa Museum of Art, and some classes are scheduled in the museum.
The curriculum also offers you the opportunity to immerse yourself in the major art and design scene in New York City. ART 292 Art Immersion: NYC Travel Course is a week-long travel experience led by faculty in art and graphic design. On location, you will visit galleries, museums, several of the largest international art fairs and participate in specialized visits to the working studios of prominent artists, graphic design firms and agencies. You will also have the opportunity to participate in faculty-led travel courses that culminate with two weeks in Europe; previous destinations have included Amsterdam, London, Paris, Rome, Venice, Florence, Prague, Brussels and Berlin.
As an upper-level student, you may participate in Meridian Scholar, an innovative program that introduces nationally and internationally known artists to the community. Artists are on campus for a two-week intensive print collaboration. You have the opportunity to be directly involved with preparation, production and post-production work with the master printer and the artist.
Highlights of the program included:
The R.K. Bailey Art Studios provides a 30,000-square-foot space for drawing, printmaking, photography studio and darkroom, and classrooms. The expansive, contemporary building accommodates growth in art programs at the University.
The Ferman Center for the Arts, which opened Spring 2021 , provides a creative and transformative space for the fine and performing arts. Students studying music, art, design, speech, theatre, dance, communication, philosophy and film will enjoy four-stories of a visual and acoustic showcase. The building offers sound-insulated professional spaces, flexible performance staging, collaborative practice studios, study spaces and access to faculty offices.
R.K. Bailey Art Studios is also home to the University's Scarfone/Hartley Gallery, which exhibits student and professional work. Since 1990, the Galleries have hosted an innovative Meridian Scholar visiting artist program that brings to campus such prominent artists as Sam Gilliam, Louisa Chase, Ed Paschke and Audrey Flack. Students can meet and learn from these professional artists.
---
---
---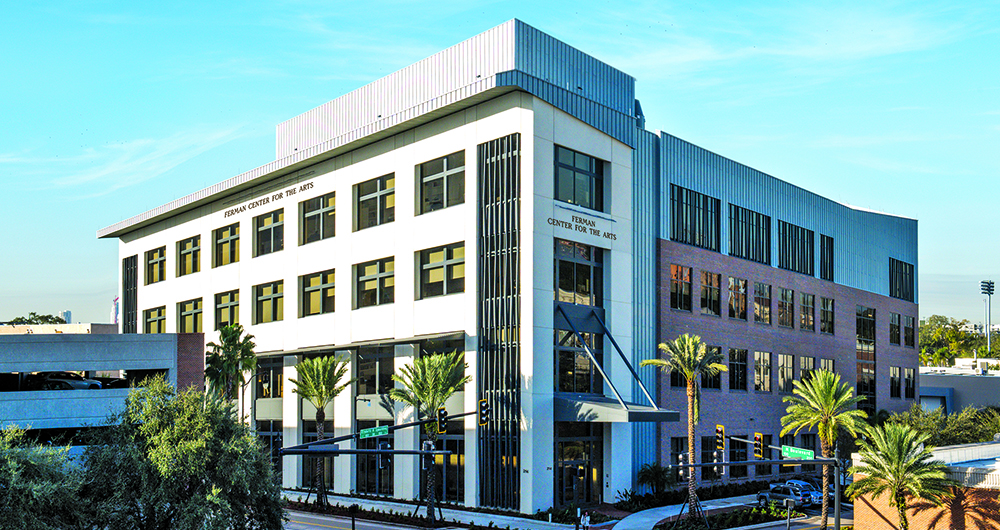 A new, four-story, 90,000-square-foot building on campus will provide spaces for UT's fine and performing arts.