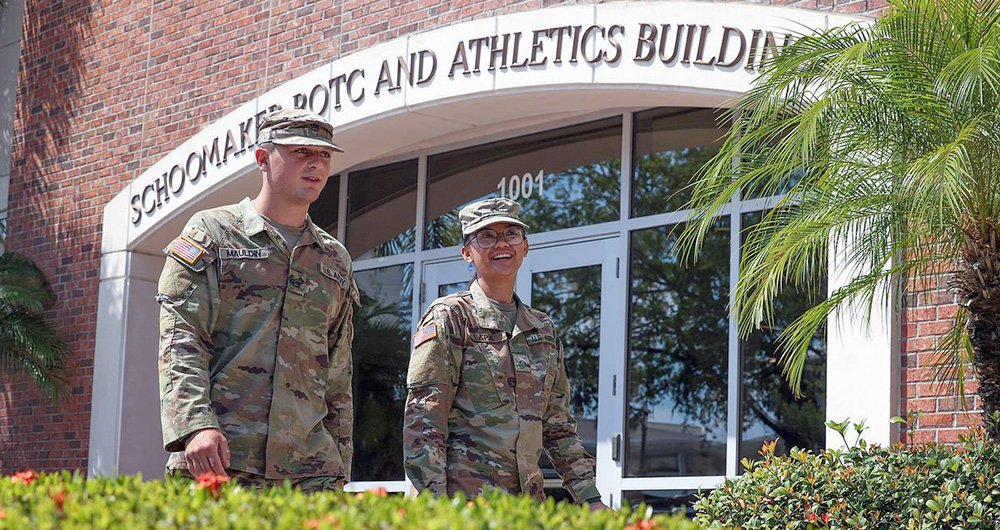 The need for leadership skills in college graduates is being stressed more and more by industry, business and military. There's no better way to acquire these skills than with the highly intensive training available through UT's ROTC programs.
Army ROTC
The Army Reserve Officers Training Corps (ROTC) program is offered through the University's Department of Military Science and Leadership (MSL). UT's Army ROTC program is frequently ranked as one of the best in the nation. The curriculum includes 23 credit hours of instruction. Four-, three- and two-year scholarships are available to high school seniors or college freshmen, sophomores and juniors.
Air Force ROTC and Navy ROTC
The Air Force Reserve Officers Training Corps (AFROTC) and Naval Reserve Officers Training Corps (NROTC) programs are offered under an intercampus agreement with the University of South Florida (USF). The curriculum includes instruction by active-duty officers during a two- to four-year period. Four-, three- and two-year scholarships are available for eligible applicants.
Army, Air Force and Naval ROTC programs teach students how to lead by going beyond the classroom with many opportunities for hands-on training. Students are challenged mentally and physically while they build self-confidence and develop skills for managing people and tasks.

Students can earn up to full tuition, a monthly living stipend and a book allowance. Upon program completion, students graduate as commissioned officers in the U.S. military.
---