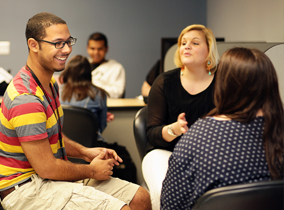 The Bachelor of Arts in Advertising and Public Relations is designed to prepare students for professional and academic opportunities in strategic communication.
The program features a flexible curriculum that serves students on both a creative track as well as those more interested in the business side of advertising and public relations. Core courses provide foundations in advertising and marketing, public relations, journalism, culture and society, visual aesthetics, writing, design, production and strategic problem-solving. Electives are chosen based on individual student interests and may include concentrations or interdisciplinary offerings.
A flexible curriculum provides an array of experiences and learning opportunities tailored to students' interests. For example, students interested in marketing often opt for electives in the College of Business, while those interested in art directing or media design might focus on courses in the art and communication departments. Future copywriters and media writers may concentrate in writing, while students interested in political public relations might focus on courses in government and world affairs. A minor in advertising and a minor in public relations is also available.
The major also prepares students for graduate studies by providing theory foundations in mass communications, ethics, cultural studies, journalism, visual aesthetics and digital media. Beyond these core areas, students can opt for electives that extend their theory knowledge in communication and related fields.
UT students have found internships in top advertising agencies, marketing and public relations departments. As a national top-15 media market, Tampa Bay offers opportunities in radio and television, studio production and journalism. Sports-minded students have interned with the Tampa Bay Rays, Tampa Bay Buccaneers, Tampa Bay Lightning and New York Yankees, while community-centered students have worked in political campaigns and nonprofit organizations. Advertising and public relations majors have worked with organizations on issues such as domestic violence, homelessness, child welfare, Hispanic outreach and victim assistance.
Student Organizations
Two campus organizations connect advertising and public relations majors to Tampa's thriving professional community: Tampa Ad Connection and Tampa Spotlight PR. The clubs regularly sponsor speakers, networking events, competitions, public service activities, field trips and more. Students who join Tampa Ad Connection automatically become members of the American Advertising Federation and its affiliates. Tampa Spotlight PR is a chapter of the Florida Public Relations Association.
Working for UT's weekly student newspaper, the award-winning Minaret, and/or helping to produce UT's yearbook, the Moroccan, are other excellent ways to get advertising and public relations experience. Students may also choose to get involved with the University's WUTT 1080 radio station.
Career Opportunities
Art director
Communications director
Copywriter
Creative director
Editor
Graphic designer
Market researcher
Marketing specialist
Media relations adviser
Promotion manager
Public relations specialist
Publicist
Web designer
---