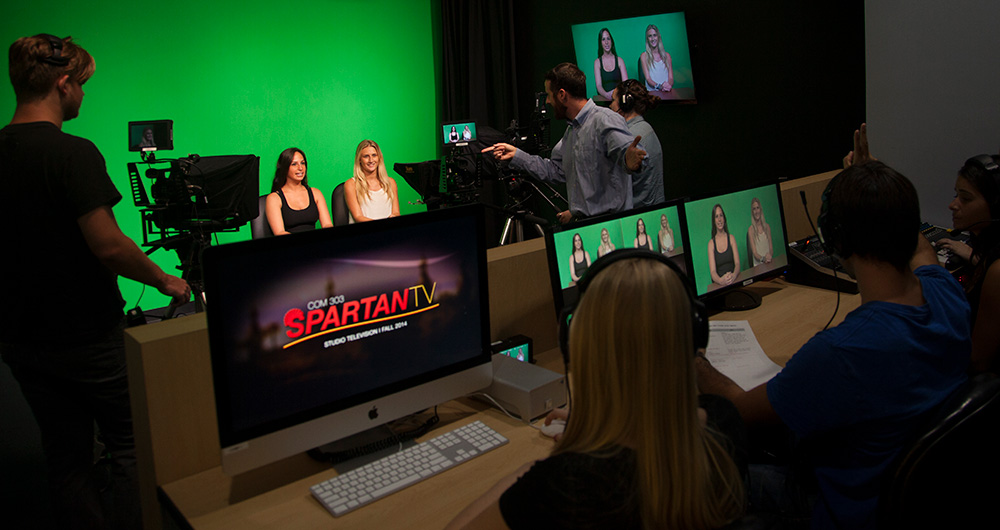 The Department of Communication offers a strong educational foundation in a wide range of dynamic fields, including television and radio, advertising and public relations, journalism, mobile application and web development, video production, intercultural communication, digital media arts, graphic communications and political communication. Studies in visual aesthetics and culture and society provide critical frameworks for media analysis and use. Courses emphasize human values, appropriate uses of communication media, historical perspectives and critical thinking.
Within the communication department, students can opt for the general communication major in media culture, selecting electives to explore specific interests, or they can track into more specific majors and minors at any time. Majors in UT's Department of Communication learn their craft using some of the latest media technologies, including state-of-the-art cameras and lighting equipment, production and post-production facilities, and computer labs with industry-standard editing and digital arts software. Students have access to two surround-sound screening rooms, a 100-station computer network, a black-box studio for three-camera TV production, a TV control room, an audio edit suite and foley room, a video and film production lab, 3D printing facilities, and a digital arts and 3D animation lab.
Currently the largest department in the College of Arts and Letters, the communication department has developed long-term relationships with nearly 100 media outlets and other private and public organizations to get students the hands-on learning they need to ensure future success. In addition, on-campus opportunities for gaining practical experience include WUTV, UT's closed-circuit TV station; WUTT 1080 AM, a student-run radio station; The Minaret, UT's award-winning student newspaper; and The Moroccan, UT's annual yearbook.
Programs
Undergraduate Majors
Bachelor of Arts in Advertising and Public Relations (interdisciplinary) - Prepares students for professional and academic opportunities in strategic communication. Core courses provide foundations in advertising and marketing, public relations, journalism, culture and society, visual aesthetics, writing, design, production, and strategic problem-solving. Students learn to produce creative solutions to real-world problems working both individually and collaboratively.
Bachelor of Arts in Communication and Media Studies - An umbrella program that allows students the most breadth of all the communication programs. After completing core courses, students choose from a wide range of electives to complete their program of study. Majors in this area have entered careers in writing for new and legacy media, non-profit organizations, television and video production, sales and marketing, advertising, public relations, and broadcast journalism or pursued graduate programs in law, business, media arts, or other fields.
Bachelor of Arts in Communication and Speech Studies - As a foundation of the communication discipline, speech studies has maintained importance today in helping us better understand how humans connect and communicate in organizational and relational contexts. Students studying in this field will learn about areas of communication, such as within families, healthcare settings, for-profit and nonprofit businesses, and courtrooms. Students will develop advanced oral communication and professional presentation skills as well as enhance their understanding of persuasion and conflict resolution.
Bachelor of Arts in Journalism - Provides students with a wide array of news writing, reporting, editing and multimedia skills and an understanding of journalism history, ethics and legal principles.
Minors
Minor in Advertising - Students interested in advertising, marketing, and graphic design will find a solid career foundation in the advertising minor while selecting a major of their choice.
Minor in Cinema Studies - The cinema studies minor offers students the opportunity to explore film from a variety of perspectives, including history, theory and film analysis.
Minor in Communication - Offers fundamentals of communication, writing, media production, social engagement and cinema studies.
Minor in Journalism - Recommended for those students majoring in another program but interested in journalism, news reporting and writing, multimedia, broadcast, and feature writing.
Minor in Public Relations - The public relations minor is an interdisciplinary program that exposes students to introductory theories and production skills in the field of public relations.
Minor in Speech - Gives students a background in the preparation and delivery of speeches for a variety of occasions
Minor in Speech/Theatre - Interdisciplinary program designed for students to explore and strengthen skills in both theatre and public speaking.
Graduate
M.A. in Professional Communication - This flexible, multidisciplinary degree is designed for students from diverse backgrounds, including advertising and public relations, corporate communications, human
M.A. in Social and Emerging Media - This program blends technology and creativity as it prepares students to develop compelling media projects, build sophisticated social media strategies and engage effectively with audiences. Topics of study include digital storytelling, visual design, audio-video production, audience and user experience research, media strategy and more.
4+1 M.S. in Instructional Design and Technology - Communication majors have the unique option to enroll in UT's M.S. in Instructional Design and Technology program. In an accelerated 4+1 format, students may take two graduate-level classes during their senior year and then complete the M.S. program in just one additional year of study.
---