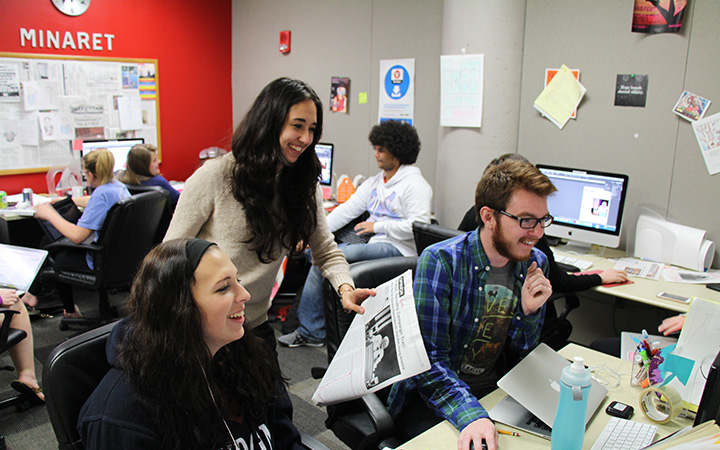 CAL students have access to multiple media platforms where they can experience all aspects of the creation, exhibition and distribution of content. Many UT media are connected to coursework and faculty mentors in the College of Arts and Letters.
Publications
Keyhole Press
Keyhole Press is an imprint of The University of Tampa Press that publishes student-written and student-edited work. Student editors learn techniques for copyediting, corresponding with authors and document design, then apply those lessons to the production of print and online publications. The Keyhole Press catalog includes Royal Road and Q: Journal of Undergraduate Research & Inquiry. For information about course offerings and internship opportunities, contact dreamer@ut.edu.
Neon
Neon is the UT literary and arts magazine, publishing student-created, solicited and edited fiction, nonfiction, poetry, visual art and more since 1978. Its annual issue is the occasion for a group of young writers and editors to practice their craft of editing and laying out an arts magazine together. The group also sustains a larger community with literary and arts events around campus.
Q: Journal of Undergraduate Research & Inquiry
Q: Journal of Undergraduate Research & Inquiry is sponsored by the University of Tampa's Office of Undergraduate Research and Inquiry and features student research from courses across the university. Each issue of Q is produced by students in WRI 376 – Advanced Publication Practicum and distributed in print and online via the University's Institutional Repository.
Royal Road
Royal Road features the best-researched arguments produced in The University of Tampa's AWR 201 – Academic Writing and Research course. Student essays are nominated by instructors and reviewed by a faculty panel; those that are selected for potential publication undergo a process of peer review and revision that reflect the standards of academic publishing. Selected essays are edited and laid out by student editors and published in an annual journal, then used as models for future sections of AWR 201.
The Minaret* (student organization)
The Minaret is the University's student newspaper, published weekly. For information, students should visit the office, located on the second floor of Vaughn Center, or contact a member of the editorial staff at minaret@ut.edu or visit theminaretonline.org.
The Moroccan* (student organization)
The University's yearbook, The Moroccan, chronicles each major event of campus life during the academic year. The publication offers opportunities for gaining editorial, business and advertising experience. The Moroccan's office is located on the second floor of Vaughn Center. For more information, please email ut.yearbook@gmail.com.
Tampa Review
Tampa Review celebrates the creative interplay of contemporary literature and the visual arts. Each issue features new art and writing from Florida and around the world, presented in an elegant hardcover format that serves as a gallery space in print.
The University of Tampa Press
The University of Tampa Press extends the educational mission of the University through the publication of works of scholarship, creativity and regional interest. Its publications disseminate the fruits of learning to a wide audience of serious readers both within and beyond the academic institution.
UTTV: Spartan Television*
UTTV: Spartan Television is The University of Tampa's student-run television station. It exists to inform and engage the student body and allow discourse between students, administrators and faculty alike. Any and all students, from every major, are welcome to participate in our activities from promotion to production of new content.
WUTT 1080 AM*
WUTT 1080 AM, the student-run radio station, provides students with an opportunity to gain radio experience. In addition to offering eclectic programming for any musical taste, WUTT also airs student-engineered and produced programming. Students may register for a practicum in broadcast and management to receive course credits or may participate as volunteers. Contact the Office of Student Leadership and Engagement or email WUTTSpartanRadio@gmail.com for more information on how to get involved.
*Student organizations
---