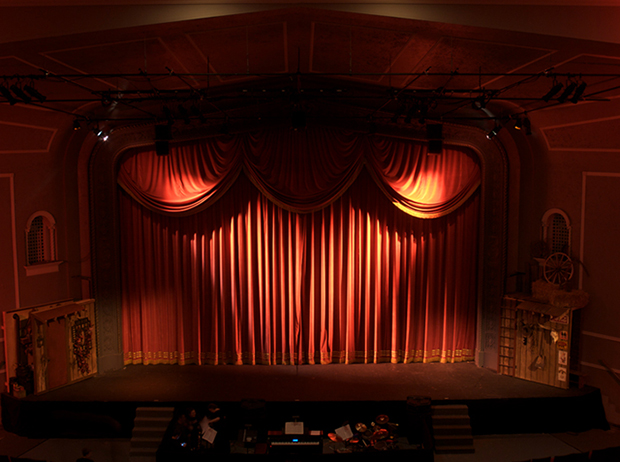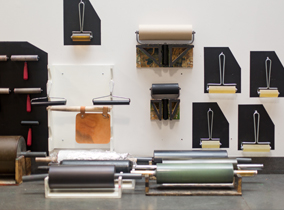 Students and faculty in CAL exhibit their art, perform their passions and engage with technology in meaningful ways in a variety of cutting-edge spaces and venues. From stunning physical locations including recital halls, theatres and galleries to production labs and digital studios, CAL students have access to professional spaces and equipment from day one.
Performing Arts
The Falk Theatre, built in 1928, is a 1,000-seat historic theater fully-equipped to modern standards.
The Ferman Center for the Arts provides a creative and transformative space for the fine and performing arts. The building offers sound-insulated professional spaces, flexible performance staging, collaborative practice studios, study spaces and access to faculty offices. The Charlene A. Gordon Theater is a 200 seat performance venue with superior acoustics and the Black Box Theater is a completely customizable venue with state-of-the-art sound and lighting design. The Charlene and Mardy Gordon Performance Gallery is a dramatic venue in the heart of the Ferman Arts Center used for a variety of events.
Musical performances regularly take place on campus in the Sykes Chapel and Center for Faith and Values, an acoustically superior building with a Dobson organ with over 3,000 pipes, or in one of several stunning rooms in the historic Plant Hall.
Film and Communication Technology
The Reeves Theater is a modern space with 7.1 surround sound and tiered seating with a proscenium stage often used for screenings and other multimedia performances. The Charlene A. Gordon Theater features an NEC projector and dedicated sound system with a 300 square foot screen – it is easily one of the best systems anywhere in Tampa Bay.
The Cass Communication Building contains a variety of computer labs with industry-standard software by Adobe, Avid, Autodesk and Apple, a Black Box production studio with full lighting grid, a 3D printing studio with 3D printers and scanners, an audio edit suite with sound booth capable of mixing 5.1 surround mixing, a color correction suite for 4K post production and a three-camera live TV production studio. A new recording studio and music technology lab in the Ferman Center for the Arts are used for various film sound design and production courses.
Art and Design
Several galleries provide enviable spaces for the appreciation and display of student artwork including the Scarfone/Hartley Gallery, a 4,000-square-foot professional quality exhibition space with 16-foot-high ceilings capable of large format art installations. The Saunders Foundation Art Gallery in the Ferman Center for the Arts provides another stunning venue to showcase student and faculty artists.
The Bailey Art Studios includes printmaking studios, a photography darkroom and lighting studio, and a digital fabrication lab with large format ink jet printer, vinyl cutter and 3D printers. Inside the studios, the Fab Lab, a digital fabrication lab gives the students, as well as faculty, the opportunity to turn their ideas and dreams into prototypes and products.
---