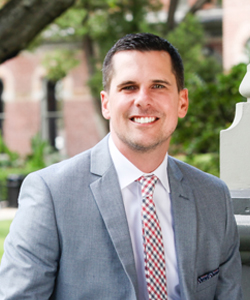 Welcome to the College of Arts and Letters (CAL). Home to eight academic departments, 24 degree programs and 11 minors, CAL is a place where the visual and performing arts intersect with the humanities and emerging technologies in really exciting ways. From state-of-the art cameras to bleeding edge software and from paintbrushes to their bodies, students in CAL work with a diverse set of tools in professional spaces and in close collaboration with talented faculty mentors.

Located in downtown Tampa, students in the College of Arts and Letters learn by doing, and the opportunities for them to make connections beyond the classroom are boundless: whether on the stage, in the recital hall, on the pages of the UT student newspaper or literary magazines, in one of the campus galleries, the ether of the digital universe or at hundreds of internship sites across the Tampa Bay area, CAL students have a chance to gain experience and confidence in so many different fields.

I often get asked by students, "Why would I study the arts and humanities?" I've recently become very eager to answer that question. As automation and disruptive technologies continue to shake up the traditional employment landscape, we know that creativity, the ability to think critically, and traditionally "soft skills" like the ability to communicate effectively in diverse contexts is what will help our students not only get jobs, but to also help invent new careers – and industries!
Billionaire investor Mark Cuban said recently when asked about what training people will need to be successful in an emerging digital economy that a "freer thinker" was going to be what was in demand. He said, "I personally think there's going to be a greater demand in 10 years for liberal arts majors." When Apple Computer invited leaders in technology to their recent developers conference the invitations declared, "Technology must intersect with the liberal arts and humanities to create new ideas and experiences that push society forward."
I couldn't agree more, and that is what we do every day in the College of Arts and Letters. Join us and be creative. Think critically. Gain practical experience. Be bold. Explore the next generation of emerging technologies. Hang out in the space where art meets tech. Forge new paths. And importantly, have fun.

– David Gudelunas, Ph.D.
Dean of the College of Arts and Letters
---