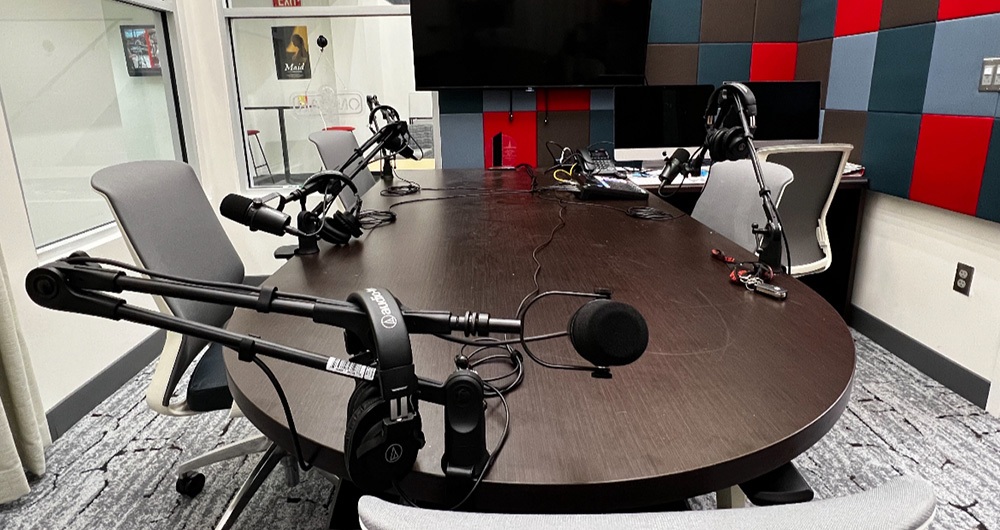 WUTT: Spartan Radio is The University of Tampa's one and only radio station. Since 1946, WUTT has served as a voice of the UT community, providing up-to-date coverage of what matters to students and faculty. The campus radio program is also a great educational resource for students interested in journalism, marketing, communication and media. WUTT currently broadcasts live on the RadioFX app from the Cass Communications building.
WUTT is a student-run organization alongside course members of the COM 250 class. The organization produces live radio shows run by members of the organization, as well as helps organize many events around campus with other student organizations to bring those events to life with music. WUTT also puts on an annual concert in honor of classmate William King, who passed away in a motorcycle accident in 2009. The concert showcases live bands and various entertainment on campus. In addition to organizing events and producing shows, WUTT also has members who work with a marketing team that markets our organization and events, a music team that gathers licenses, interviews and music to play, and a news team that keeps up with local, state and national news and UT and Tampa Bay's sport teams news.
Getting Involved with WUTT
To get involved with WUTT, current students are invited to attend weekly meetings. You can also find us at many student organization events and fairs playing music, so feel free to come up and ask what we are all about! We are always welcoming new members to the organization and are looking for dedicated and passionate participants to join in making WUTT radio a great campus organization.
Contact Information
The WUTT radio station is located in Room 101 of the Cass Communications building.
The mailing address is as follows:

WUTT Spartan Radio
401 W. Kennedy Blvd., Box P
Tampa, FL 33606
For more information, please email WUTTSpartanRadio@gmail.com.
WUTT Student Executives
News Director- Samantha Relkin
General Manager - Kimberly Liquori
Program Director - Gabrielle Assad
Event Director - Emily Pesquera
Marketing Director - Leal Balkis
Music Director - DJ Shelley
Sports Director - Olivia Nichols
Social Media Manager - Megan Malone
Budget Manager - Lucia Sacerdoti
Advisor
Connect
---