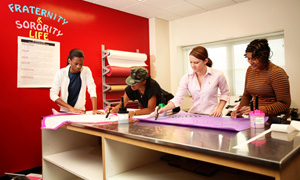 All registered student organizations are encouraged to visit the Student Organization Suite in Vaughn Center 209. This space is exclusively for student organizations to use and take advantage of a wide variety of resources available to them, including:
Paper and craft material for flyers and banners to help advertise and market their events
Helium tank
Organization Suite staff are available during open hours to answer any questions and assist with projects. The Student Organization Suite is open various times throughout the week and weekend. Schedules are based on student staff and typical use by student organizations. Check with the Office of Student Leadership and Engagement or visit Vaughn Center 209 to find out this upcoming semester's hours.
For more information about student organizations and available resources, please visit the Student Organization Directory or contact the Student Organization Suite directly at (813) 257-3986.