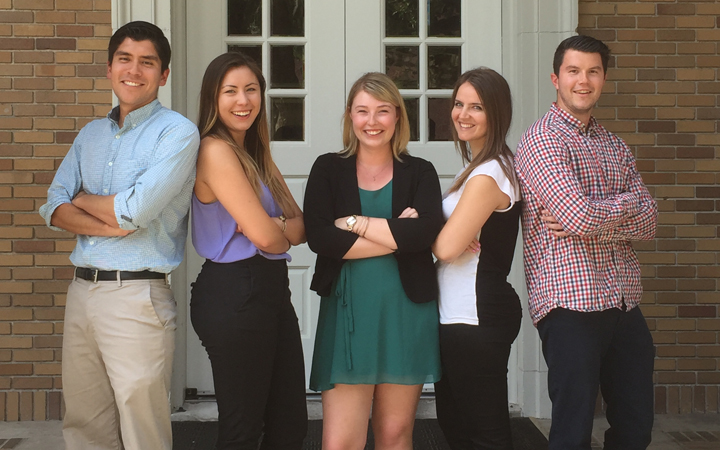 The management degree provides students with the knowledge and specific skills required to develop and lead a global workforce. A business administration minor is available for students not pursuing a major in the College of Business.
Management is more than planning, organizing and controlling resources; it is the direction of human effort in all facets of business, industry and government. Therefore, in addition to human resource management, the program focuses on global organizational behavior, international business and strategic leadership. Electives may be chosen from accounting, economics, entrepreneurship, information and technology management, and marketing.
Students in the program consult with local businesses and nonprofit organizations as part of a semester-long project. By helping organizations solve real-life problems, students gain vital skills on how to assess organizations' operations and competitive environments.
Management majors have held internships at Bank of America, Raymond James Financial, Walt Disney World and the Port of Tampa, to name a few.
Alumni from the program are employed in management, consulting and human resource staff positions by Citigroup, Jabil Circuit, KPMG, PricewaterhouseCoopers, Tech Data, TECO Energy and Verizon, among others. Furthermore, graduates of management often enroll in prestigious graduate and law schools.
Topics of Study
strategic human resources management
models for effective teamwork, leadership and organizational change
organizational cultures, structures and processes across industries and countries
strategic and operational planning, including the development of organizations' vision and mission
ethics and social responsibility within the context of the current business environments
On-Campus Associations
Management students are encouraged to join UT's chapter of Delta Sigma Pi, the international business administration fraternity that sponsors programs in professional and community development. The local chapter of the Society for Human Resources Management (SHRM) and the Society for International Business are open to management students, as are eight other campus professional business organizations. Qualifying students are also invited to join the Beta Gamma Sigma national business honor society for AACSB accredited schools.
---
---

The Sykes College of Business is accredited at both the graduate and undergraduate levels by AACSB International.
---