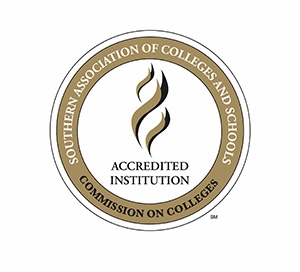 The University of Tampa is accredited by the Southern Association of Colleges and Schools Commission on Colleges (SACSCOC) to award baccalaureate, masters and doctorate degrees. Degree-granting institutions also may offer credentials such as certificates and diplomas at approved degree levels. Questions about the accreditation of The University of Tampa may be directed in writing to the Southern Association of Colleges and Schools Commission on Colleges at 1866 Southern Lane, Decatur, GA 30033-4097, by calling (404) 679-4500 or by using information available on SACSCOC's website (www.sacscoc.org).
Other accreditations include:
AACSB International – Association to Advance Collegiate Schools of Business:
Sykes College of Business
AAM – American Alliance of Museums:
The Henry B. Plant Museum
ABET – Computing Accreditation Commission
Management Information Systems
Academy of Criminal Justice Sciences
Undergraduate criminology and criminal justice program
ACS – American Chemical Society:
Chemistry

ARC-PA – Accreditation Review Commission on Education for the Physician Assistant

Physician Assistant Medicine Accreditation-Provisional

ASBMB—American Society for Biochemistry and Molecular Biology
Bachelor of Science in Biochemistry
CAATE – Commission on Accreditation of Athletic Training Education:
Athletic Training

CAE-CD — National Center of Academic Excellence in Cyber Defense
Sykes College of Business Cybersecurity Programs

CAPACS – Commission on the Accreditation of Programs in Applied and Clinical Sociology:
Applied Sociology
Commission on Collegiate Nursing Education
The baccalaureate degree program in nursing, master's degree program in nursing and the post-graduate APRN certificate program at UT are accredited by CCNE, and the DNP program is pending accreditation.
COSMA - Commission on Sport Management Accreditation
Bachelor of Science in Sport Management
Council for Accreditation of Educator Preparation (CAEP) approves UT's teacher educator programs.
FEPAC - Forensic Science Education Programs Accreditation Commission
Bachelor of Science in Forensic Science
International Standards Organization and International Electrotechnical Commission
ISO/IEC 27001:2013 certification in information security, human resources, management of information technology and the Sykes College of Business information security lab (IS 609052); ISO 22301:2012 certification in business continuity management system (BCMS 701112).
NASAD - National Association of Schools of Art & Design

Art and Design programs include art, design and museum studies.

Film, Animation and New Media programs including animation, film, and media arts and new media.
NASM – National Association of Schools of Music:
Music, Music Education and Musical Theatre
The Florida Department of Education approves UT's education programs.
UT's Bachelor of Science in Actuarial Science is approved by the Society of Actuaries, which is the largest actuarial professional organization.
The Florida State Approving Agency for Veterans' Training recognizes the University for veterans' educational benefits.
---