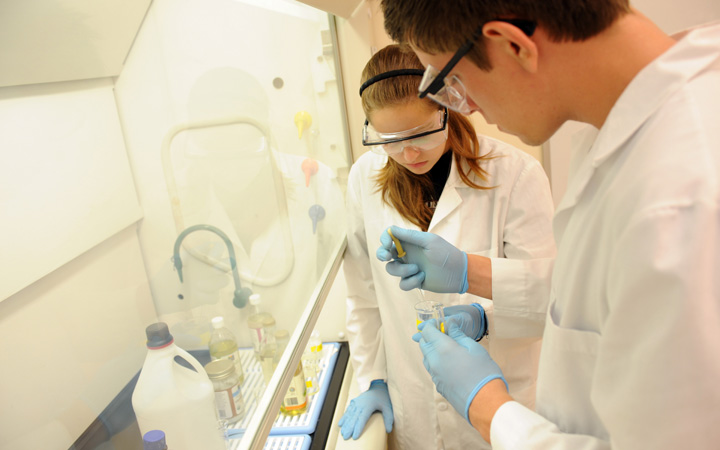 The Department of Chemistry and Biochemistry offers students a solid foundation in the five major areas of chemistry: analytical chemistry, biochemistry, inorganic chemistry, organic chemistry and physical chemistry.
The program prepares chemistry students for entering the job market or for continuing their education at the graduate level. Research projects, publishing opportunities, internships and classes provide students with both lecture and laboratory experience.
Each chemistry major is assigned to a faculty adviser who specializes in the student's area of interest and provides guidance on choosing the right course of study to achieve his or her career goals.
Students also assist with ongoing faculty projects or pursue their own independent work under the guidance of faculty. They learn such things as how to apply the scientific method by generating hypotheses, designing and conducting experiments, and interpreting empirical data. They not only receive academic credit, but many have presented their findings in scientific publications and at international and national conferences. Research opportunities include areas such as atmospheric chemistry, marine nutrient analysis, protein chemistry, organic synthesis and genetic regulation of cancer. Facilities on campus include a DNA sequencer, electrophoretic gel imaging and documentation system, a Nanodrop™ spectrophotometer, 300 MHz NMR, ICP-AES, GS/MS and LC/MS/MS.
Pre-Health
The University of Tampa's undergraduate program provides a strong foundation for post-graduate work in the sciences as students are immersed in their major discipline while also touching on curricula that extend beyond the sciences. The nearly one-on-one environment fosters an opportunity for greater depth of knowledge and enables students to succeed in the following careers: Dentistry, Medicine, Optometry, Pharmacy, Podiatry and Veterinary Medicine.
---