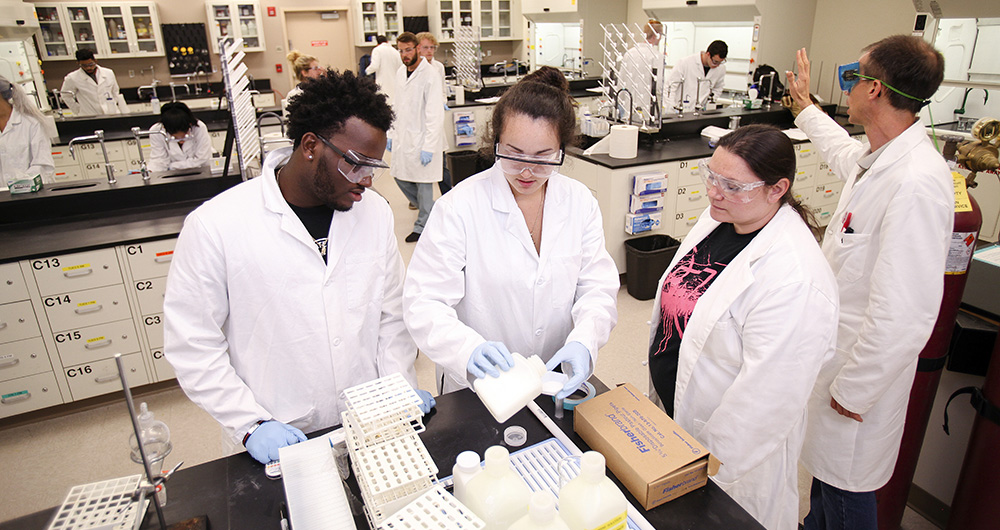 ---
---
Pre-health 101: Rx to Success Spring Workshops
This workshop is the first step in getting involved with UT pre-health resources. We will discuss pre-requisite classes, getting involved on campus and in the medical field, admission tests and the graduate school application timeline.
There are seven dates from which to choose:
Wednesday, Feb. 3, 11 a.m.—12 p.m.
Tuesday, Feb. 9, 10—11 a.m., Zoom
Thursday, Feb. 18, 9—10 a.m.
Monday, Feb. 22, 1—2 p.m.
Tuesday, March 2, 1—2 p.m., Zoom
Thursday, March 11, 2:30—3:30 p.m.
Friday, March 26, 10—11 a.m., Zoom
Please email Jackie Mikulski, jmikulski@ut.edu, to register for a workshop.
---
UT Graduates
75% have been accepted to one or more U.S. medical programs.
Since 2011, 75% of UT graduates with a degree in the natural and health sciences who earned a 3.6 GPA in science and math classes and scored a 505 or higher on the Medical College Admission Test (MCAT)* have been accepted to at least one U.S. medical program. These students also exhibited exceptional experience in the health field and had leadership experience on campus. The foundation for their success was gained through the hands-on educational experience and personalized attention afforded through The University of Tampa.

*As of 2018, the average score for matriculants to U.S. medical schools is a 509 as reported by the Association of American Medical Colleges.
---
Join us on Blackboard
Current UT students, log in to Blackboard.
Click on Courses/Catalog located in the top right hand corner.
Under Organization Catalog, click Academic Success.
ASC-PH will appear under Organization ID, hover over this ID and a drop down arrow will appear.
Select Enroll and then Submit to self-enroll in the organization.
Video
MEDLIFE UT is an organization that helps families achieve greater freedom from the constraints of poverty by improving their access to medical care, education and community development.
---