Into the Streets Service Project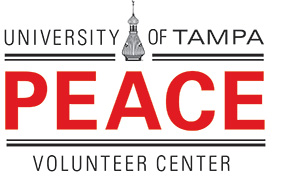 Join the PEACE Volunteer Center as we go Into the Streets on Sunday, Aug. 25, 2019. We will be working with two nonprofit organizations in the Tampa Bay community that focus on different social issues. This event is part of UT Week of Welcome. To participate, sign up here! 
Into the Streets Registration Form 
About PEACE
The PEACE Volunteer Center is the The University of Tampa's volunteer office for students, faculty and staff. It is committed to community and campus service, and its mission is to increase volunteerism at The University of Tampa by providing diverse service opportunities that empower students through community outreach and leadership. The PEACE Volunteer Center staff organize and facilitate an average of 100 events per academic year, including volunteer opportunities both on and off campus, as well as Alternative Break trips. These events connect UT students with numerous nonprofit agencies in the Tampa Bay area and provide opportunities for service-learning through projects that benefit the campus and the community.

In addition to organizing events, the PEACE Volunteer Center records student, faculty and staff service hours. Students can request their hours at any point during the semester.
 
Get Involved with PEACE
Current students can browse and register for upcoming events sponsored by the PEACE Volunteer Center on Engage. Students can login using their Spartans domain name and password on MyUTampa.

While PEACE maintains an active schedule of service opportunities throughout the year, two annual events, Into the Streets (planned during orientation for first-year students) and the Martin Luther King Jr. Day of Service, attract the largest number of volunteers each year. Hundreds of students, as well as faculty and staff, typically participate in each of these events.
 
The
Alternative Breaks Program
allows participants to travel outside of the Tampa Bay area to serve others. Each trip focuses on a social issue including cultural preservation, animal rights, domestic violence, education and environmental conservation. 
Contact Information
The PEACE Volunteer Center is located in Room 206 of the Vaughn Center.
For more information, please call (813) 253-6263 or email
peace@ut.edu
.
The mailing address is:
PEACE Volunteer Center
401 West Kennedy Blvd., Box P
Tampa, FL 33606


Student Coordinators 
Liz Ho Sing Loy
Ella Hampson
Advisor
Ian McGinnity

 

Follow us on Instagram @peace_volunteercenter