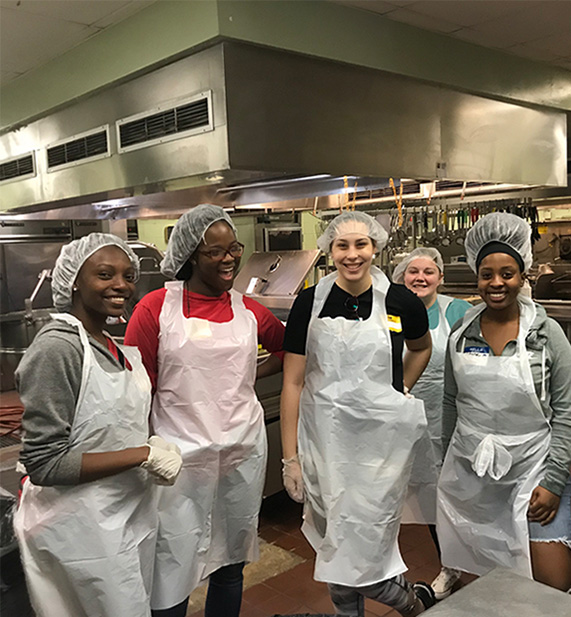 Community Outreach provides service opportunities in the Tampa Bay area and facilitates relationships between the PEACE Volunteer Center and local community partners. Three or more projects are planned each week during the fall and spring semesters.
Into the Streets
Students begin each fall semester by serving in the Tampa Bay community during the University's annual day of service, the largest community outreach event that focuses on a variety of social issues including environmental stewardship and poverty. The event offers incoming first year students insight into the area's community service needs, provides opportunities to get involved and inspires a new wave of UT students to find something about which they're passionate.
Community Partners
Advocates for World Health
ALS Association
American Brain Tumor Association
American Cancer Society
American Heart Association
Animal Based Charities
Champions for Children
City of Tampa Police Athletic League
Cleveland Elementary School
Cystic Fibrosis Foundation
Feeding America Tampa Bay
Freddie Solomon Boys and Girls Club of Tampa Bay
Friends of Plant Park
Glazer Children's Museum
Habitat for Humanity Restore
Hope Children's Home
Humane Society of Tampa Bay
Keep Tampa Bay Beautiful
Metropolitan Ministries
New Life Village
Rebuilding Together Tampa Bay
Seniors in Service
St. Francis Society Animal Rescue
Sweetwater Organic Farm
Tampa Bay Harvest: Sustainable Living Project
Tampa Bay Historical Center
Tampa Heights Community Garden
The RICH House
The Salvation Army
The Spring of Tampa Bay
Trinity Cafe
YMCA - Camp Cristina
Zaksee Florida Bird Sanctuary
Zoo Tampa at Lowry Park
Join Us
Email peacecommunity@ut.edu if you are interested in organizing a student volunteer opportunity with the PEACE Volunteer Center in the Tampa Bay area. Events must last for a minimum of two hours, so our volunteers have the ability to make the greatest contribution possible. We look forward to working with you as a community partner!
Contact Information
Community Outreach Student Director
Cassidy Kramer
peacecommunity@ut.edu
---