The Alternative Breaks Program allows participants to travel outside of the Tampa Bay area to serve others. Each trip focuses on a social issue including cultural preservation, animal rights, domestic violence, education and environmental conservation.
From working in community development in Peru to engaging in environmental preservation projects in Oregon, University of Tampa students can spend their vacations in service to others. The Alternative Breaks Program is a branch of the PEACE Volunteer Center at The University of Tampa, which is committed to immersing students in a variety of cultures and social issues. The Alternative Breaks Program arranges a total of 10 domestic and international service opportunities for University of Tampa students, faculty and staff.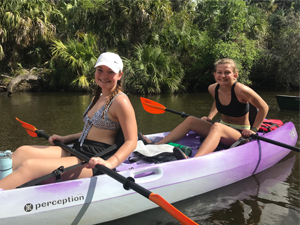 Students have headed to Denver to work with the Denver Rescue Mission, meal prepping and serving. They've traveled to the Everglades to work with the Everglades National Park to clear trails and making the park more wheelchair accessible. The students learned about the park's conservation, and how they work to protect the surrounding environment.
All of the PEACE Alternative Break Programs emphasize the eight components of a quality break experience: strong direct service, orientation, education, training, reflection, reorientation, diversity, and are alcohol and drug-free.

Who We Work With
Alternative Breaks focus on diverse social and cultural issues, providing students with the opportunity to discover their passions in service.
In the past, we have worked with agencies focused on: hunger and homelessness, persons with disabilities, children, disaster relief, animal rights, environmental preservation and education.
Mission Statement
It is the mission of the PEACE Alternative Breaks Program to increase volunteerism and the individual's value of service as they work towards becoming active citizens. The program provides an opportunity for direct service combined with participant education and reflection.
Past Alternative Breaks
Eco Volunteer UP: Community Development and Environmental Preservation in the Amazon Rainforest, Ecuador
Cross-Cultural Solutions: Education and Child Development in Rabat, Morocco
AIDS Project Los Angeles: HIV/AIDS in Los Angeles, CA
Harvest Farm: Watershed Restoration in Murphy, NC
Once Upon A Time in Appalachia: Native American Issues in Maryville, TN
Denver Rescue Mission: Homelessness and Poverty in Denver, CO
Give Kids the World Village: Child Healthcare in Orlando, FL
Oxbow Eco-Center: Environmental Conservation in Port St. Lucie, FL
Application Process
Applications are available in the fall and spring semesters on the PEACE Volunteer Center's Engage page under "forms." Qualified applicants must be in good judicial standing and academic standing and be a full-time, undergraduate students.
Contact Information
Stephanie Carrion and Erin Heap
Alternative Breaks Student Co-Directors
PEACE Volunteer Center
Vaughn Center, Room 206
Phone: (813) 253-6263
Email: alternativebreaks@ut.edu
---