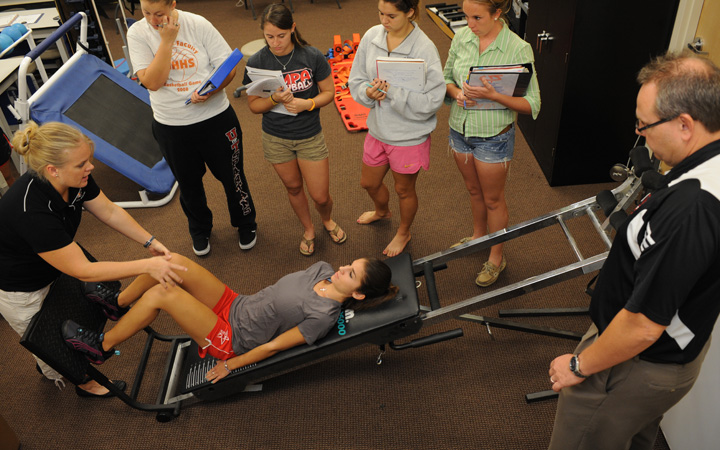 The Department of Health Sciences and Human Performance (HSHP) offers a unique learning environment. The engaged faculty, stimulating coursework and hands-on learning opportunities enable students to be highly competitive whether they choose to enter the job market or pursue a graduate degree.
The department offers five undergraduate degrees in the following areas of study.
*UT's athletic training program offers an early-assurance 3+2 graduate professional program. Students earn a B.S. in Health Science after the completion of four years, then a M.S. in Athletic Training (MSAT) after the successful completion of an additional post-baccalaureate year. Students may also enter the program as undergraduate transfer students or as post-baccalaureate students.
**The B.S. in Physical Education degree program is no longer available to incoming students. Students who are seeking to earn a degree to teach grades 6-12 physical education in public schools are instead strongly encouraged to enroll as a human performance major and simultaneously apply to enroll in our Florida state-approved professional education minor.
The department offers two graduate degrees in the following areas of study.
Students will connect theory with application in global settings through:
Clinical Placements
Faculty-led Scholarship Projects
Examples of the educational opportunities offered by our majors and program concentrations include:
Creating and implementing personal fitness plans for athletes, faculty members, and students
Creating and participating in health promotion campaigns
Providing rehabilitation in an athletic training clinic
Interning with public and private corporate and health organizations
Working for professional or national events
Participating in health sciences and human performance research grants/project
---