The B.S. in Public Health degree program is designed for students primarily interested in the improvement of health and prevention of disease and disability. The program mission is to improve health throughout the lifespan. The program focuses on:
Identifying social and behavioral determinants of health,
Developing and evaluating interventions and policies leading to the improvement of population health, and
Preparing professionals for leadership positions in advocacy and public health service.
Upon completion of the program, students will be well qualified for graduate studies and/or leadership roles in public and private organizations. These organizations may include hospitals, group practices, community health centers, and community-based nonprofit organizations, public and private corporations, foundations, workplaces, schools, colleges, and local, state and federal public health agencies.
Curriculum Description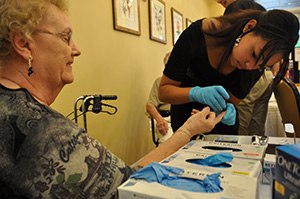 Public Health is an inherently multi-disciplinary area of study. For example, core quantitative disciplines such as epidemiology and biostatistics are essential for analysis of the broad impact of health problems, allowing us to look beyond individuals to entire populations. And, because preventing disease is at the heart of public health, the program includes the social science for a better understanding of health-related behaviors and their societal influences.

The manner in which health information is generated and disseminated greatly influences individuals, public officials, organizations, communities, and entire populations. Communication skills enable our students to identify contexts, channels, messages and reasons that will motivate individuals to listen, understand and use health information. And, because successful public health efforts must be led by those who can mobilize, coordinate and direct collaborative actions within complex systems, our students receive intense coursework in quality management and leadership.

Although there are several required and recommended courses for the public health major, students still have flexibility in the curriculum to take courses of special interest. For instance, students may wish to pursue additional coursework in adolescent health, women's health, gerontology, biology, environmental science, criminology, international and cultural studies, urban studies, Latin American studies, psychology, sociology, communication or research methods. View UT's online catalog for requirements and courses.