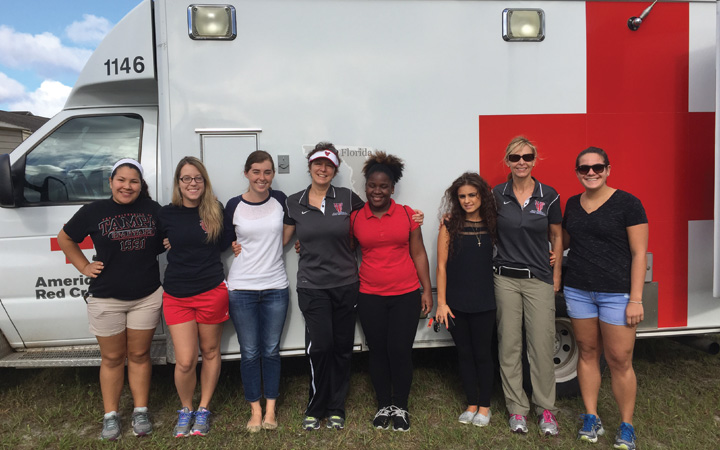 Assistant Professor Claudia Aguado Loi specializes in in mixed methodology study design and analysis, program planning and evaluation, community-based participation research methods, instrument design, project management, community-engaged research and service learning. Her primary research areas focus on the prevention and reduction of cancer health inequities. She brings extensive experience working with Latino populations and in cancer survivorship (e.g., quality of life of Latina breast cancer survivors). 
Office: (813) 257-3230
Fax: (813) 258-7497 
Email:  caguadoloi@ut.edu

Associate Professor Mary Martinasek specializes in social marketing, mixed method research inquiry and health program evaluations. Her research interests include understanding the social and behavioral aspects of waterpipe tobacco (hookah) smoking and of electronic nicotine delivery systems. She is a social marketer with experience in conducting social marketing campaigns to change behavior. As a longstanding registered respiratory therapist and registered pulmonary function therapist, she is actively involved in the Florida Asthma Program, the Florida Public Health Association and the American Lung Association of Gulfcoast Florida. 

Office: (813) 257-5037
Fax: (813) 258-7497 
Email: mmartinasek@ut.edu 

Associate Professor Rebecca Olsen specializes in health services research, social marketing and health promotion. Previous work includes qualitative and quantitative data collection and analysis, organizational and leadership performance improvement, organizational change, health care access, utilization, delivery, effectiveness, efficiency, patient safety and health outcomes.

Office: (813) 257-3749
Fax: (813) 258-7497
Email: rolsen@ut.edu


Associate Professor Tracy Zontek specializes in environmental and occupational health and safety. Her research interests include undergraduate research and the effects of nanoscale materials on health. She spends her summers at Oak Ridge National Laboratory evaluating worker exposures to nanoscale materials, particularly in additive manufacturing (3-D printing) processed. As a Certified Industrial Hygienist (CIH) and Certified Safety Professional (CSP), she is actively involved in the American Society of Safety Professionals (West Florida Section) and the National Environmental Health Association.  
Office: (813) 257-3176
Fax: (813) 258-7497 
Email: tzontek@ut.edu
The University of Tampa
College of Natural and Health Sciences
401 West Kennedy Blvd.
Tampa, FL 33606-1490
Pictured Above: UT faculty and students volunteer in the community working with the American Red Cross to install smoke detectors and educate community members on fire safety.
External Links/Resources
---