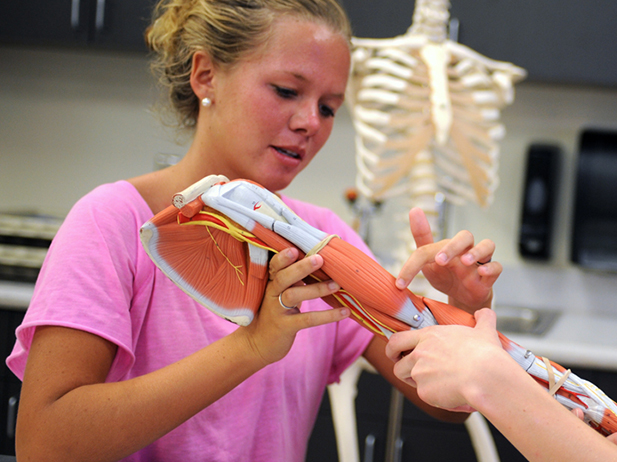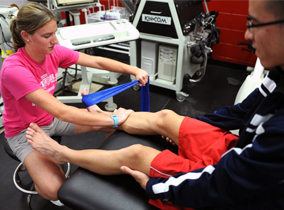 Students who wish to pursue graduate or professional training in allied health fields such as physical therapy, occupational therapy, physician assistant and chiropractic medicine, in addition to other areas of interest, are encouraged to enroll in this program. Coursework should be taken in chronological order and field experiences are encouraged; students must discuss their intentions with their advisors as soon as they decide to follow this course plan.
Upon completion of this program, the student will have earned a B.S. degree in allied health. Students will choose one of three specific concentrations within the allied health major including physical therapy sciences, occupational therapy sciences and medical sciences. The undergraduate program helps the student fulfill many prerequisites necessary to apply to graduate and professional programs in the allied health professions. Graduate and professional programs have a variety of required prerequisite courses. In order to complete all prerequisites and the courses needed for graduation, students must work closely with their academic adviser regarding course selection and satisfaction of the Baccalaureate Experience requirements outlined in this catalog.
Faculty Information
Ronda Sturgill, Ph.D., ATC, CHES
Coordinator, Allied Health Program
Office: (813) 257-3445
Fax: (813) 258-7482
E-mail: rsturgill@ut.edu
The University of Tampa
College of Natural and Health Sciences
Health Sciences and Human Performance
401 W. Kennedy Blvd.
Tampa, FL 33606-1490
Pre-Health Advising
Pre-professions advising has a dedicated program specialist to help students prepare for professional school in the health sciences. Current UT students, please email jmikulski@ut.edu to schedule an appointment. Please include your student ID number in the email.
Jackie Mikulski
Academic Program Specialist
Academic Success Center
Office: North Walker Hall
Email: jmikulski@ut.edu
External Links/Resources
---