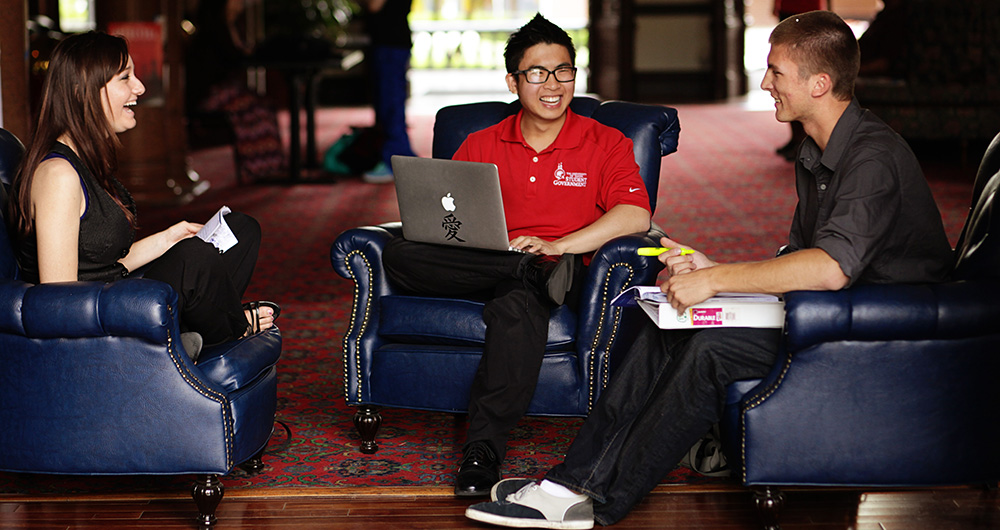 Watch UT Honors Program video on YouTube.
The interdisciplinary Honors Program provides an enhanced learning environment for exceptional University of Tampa students. Led by a distinguished faculty, students are challenged to aim higher and go farther in their lives, communities and careers.
Honors Program students thrive in a close-knit atmosphere among the most inquisitive, intellectually spirited and enterprising students. They enjoy specialized classes on stimulating topics, attend symposia, conduct original scholarship for the Honors Thesis, and participate in state, regional and national honors conferences.
Honors students also have the opportunity to study at Oxford University in England, to apply for study abroad scholarships, and to conduct original scholarship and research under the guidance of UT faculty. Other benefits include access to a specially-equipped Honors lounge and an option to in the Honors-only residence hall. Students must be full-time to be eligible for these opportunities. Applications for all the Honors opportunities are online.
Honors Program Admission
First-year and transfer students are automatically considered for the Honors Program when they apply to the University, and, if accepted, are considered "Honors Eligible." A separate application for full enrollment in the Honors Program is required at the end of the first-year for freshmen, after completion of their second semester for transfer students and after at least one semester at UT for all continuing students.
Admission requirements for the Honors Program are as follows:
Freshmen: 3.7/4.0 unweighted GPA. Students with 3.5/4.0 unweighted GPA and successful completion of AP, IB, AICE, Cambridge and/or dual enrollment coursework, may be eligible for program admission based upon evaluation by the admissions committee.
Transfers: 3.5 GPA or very strong recommendation from a college Honors director.
Continuing Students: Same requirements as other Honors Program students. Scheduling should be discussed with Honors Program directors by contacting the Honors Program office at honors@ut.edu.
Program Course Requirements
Pathways to Honors (HON101 and 102)
Earn 100 ACE (Academics, Community and Engagement) points per academic year
Complete an Honors thesis
Five other honors courses of at least three credit hours each. Those courses can include:

Regular honors classes
Honors independent study
Honors enrichment tutorials
Honors thesis
Honors abroad seminars
Oxford tutorials
---