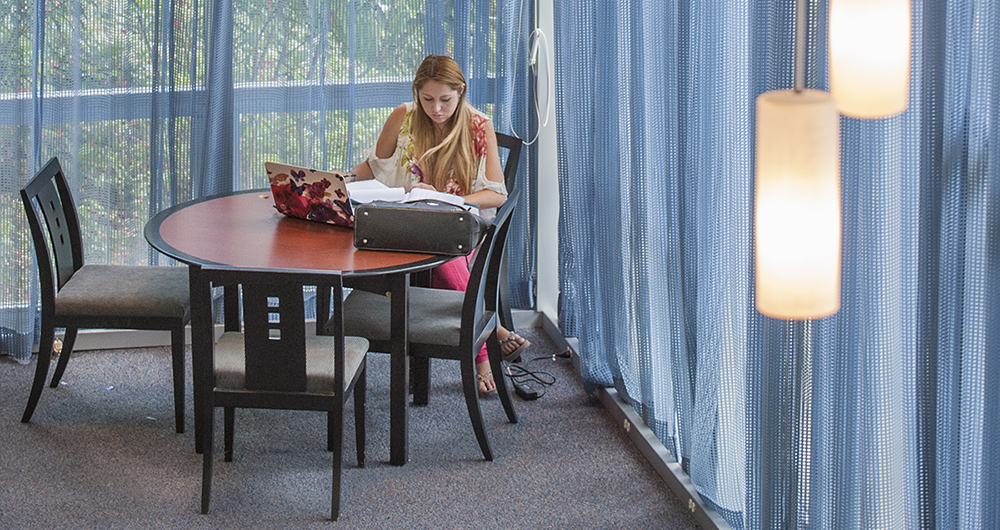 The library book drop is open. If you are off campus, please address any book returns/packages by mail to:
Macdonald-Kelce Library
401 W. Kennedy Blvd., Box 73F
Tampa, FL 33606-1490
Please contact us at library@ut.edu with any questions.
Need Reference assistance? Librarians are available to email/chat during reference hours.
Here is the liaison list if you need to contact your subject librarian for your department.
---
The University of Tampa's library opened Oct. 19, 1969, and was originally named in honor of the late St. Louis industrialist, Merl Kelce, whose donation made the construction possible. It was re-named the Macdonald-Kelce Library in 1999 because of the generosity of the Macdonald Family Foundation whose contribution will transform the facility into a state-of-the-art information resource center. The Macdonald-Kelce Library is part of the Tampa Bay Library Consortium.
The Macdonald-Kelce Library provides access to:
More than 275,000 books and 65,181 periodicals
Reference materials
Government documents
DVDs, laptops, CDs, streaming video, and records
Media services equipment and support
Special collections, including:

Florida military materials
Old and rare books
Local history and UT archives

Reference assistance and bibliographic instruction
Interlibrary loans and reserve materials
Computer lab and study rooms
Friends of the Library
The Friends of the Library organization consists of individuals and companies that support the Macdonald-Kelce Library and libraries in general. The group hosts events and co-sponsors activities with other campus organizations each year. With funds raised by membership dues and events, the Friends of the Library have purchased new library materials and equipment. Donate directly to the Library.
---
---
---
Hours are subject to change during final exams, holidays and summer sessions.
Common questions regarding the library and its resources.