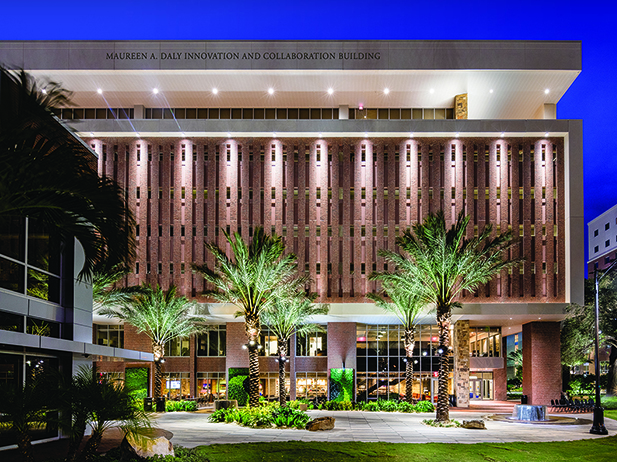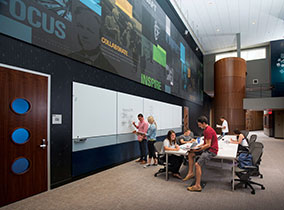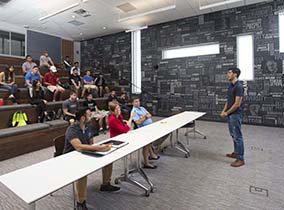 The John P. Lowth Entrepreneurship Center is a model entrepreneurship space incorporating state-of-the-art design elements to enhance creativity, inquiry, introspection and innovative thinking and learning. It brings together student entrepreneurs, educators and experienced entrepreneurs to generate, refine and develop business concepts and to launch new ventures. This unique space includes:
Inspiration center – includes workstations, a pop-up pitch area and two think pods
Pitch room – a tiered space designed for presenting business ideas
Contemplation loft – an area for reflection and creative ideation
Executive seminar room – a tiered room that seats 84
Collaboration kitchen – a place to eat, relax and devise new ideas; features colorful wall displays of current and former students' successful ventures
Spartan accelerators – four large spaces for student entrepreneurs to work on their startups
Masters suite – dedicated space for masters students to work on their projects
Community incubator – a live learning lab for up to nine early-stage community businesses
Video conference room – features a circular window with electro-chromatic glass that can switch from transparent to opaque for privacy
Resource center – offers printed and electronic information about entrepreneurship and new venture creation
Entrepreneur-in-residence office – for visiting entrepreneurs who are coaching and mentoring UT students
Venture capital suite – for individuals who can help students as mentors and connectors to funding
Faculty and staff offices
Board room
Lobby – includes touch-screen videos and information panels
Outdoor terrace – offers views of the city and Hillsborough Bay
Lowth Entrepreneurship Center Map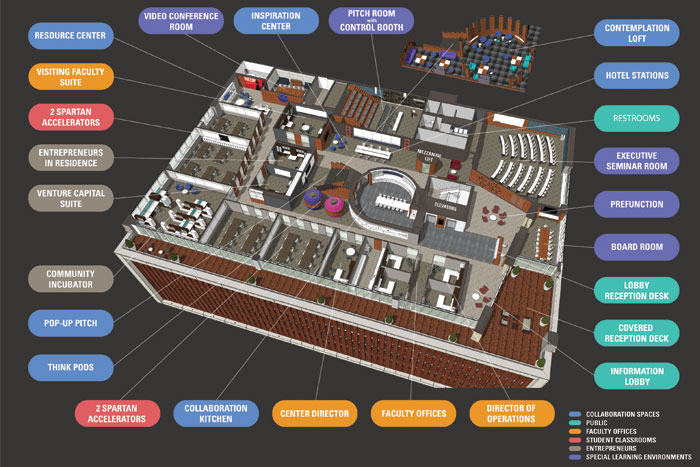 Take a virtual tour of the John P. Lowth Entrepreneurship Center.
Most Recent Updates
---