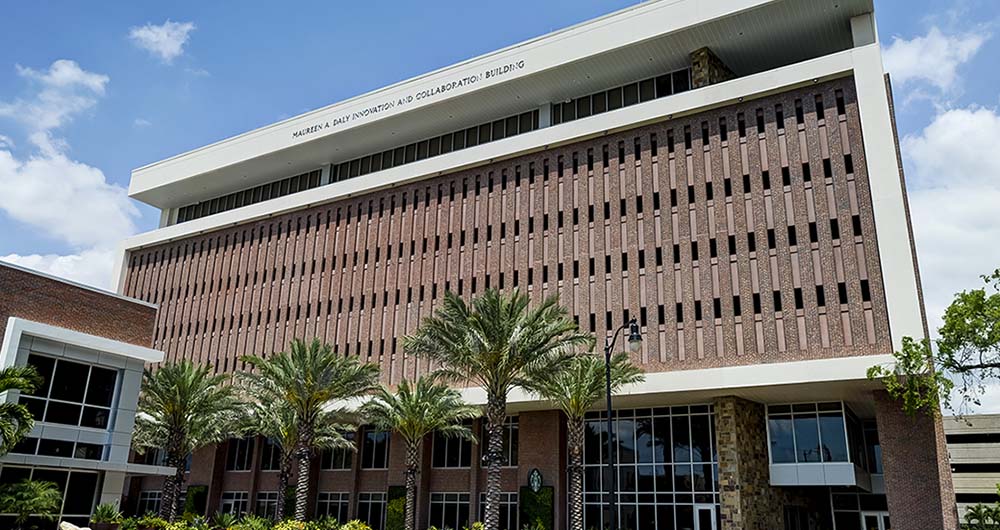 John P. Lowth Entrepreneurship Center students have the opportunity to engage and learn from the center's strategic partners such as the H. Lee Moffitt Cancer Research Center through unique programs and competitions.
The University of Tampa is proud to house the national headquarters for the Collegiate Entrepreneurs' Organization (CEO). CEO is located in the Maureen A. Daly Innovation and Collaboration Building, which houses the Lowth Entrepreneurship Center. UT is a proud supporter of CEO and the more than 250 chapters in the CEO network on university campuses around the country. The national headquarters moved to UT in 2016 under the leadership of executive director and entrepreneurship faculty member Giles Hertz, J.D., and managing director James Zebrowski. Details on the CEO, the resources they provide to their membership and more information can be found at www.c-e-o.org or at (813) 258-7CEO.
CEO Council Business Plan Competition
In conjunction with the capstone course in entrepreneurship, ENT 487 – Business Plan Development, and the CEO Council of Tampa Bay, UT Entrepreneurship puts students through a business plan competition as a final step in the entrepreneurship program. Each year this program awards three $1,000 prizes to the best business plans among graduate and undergraduate students studying entrepreneurship at UT. This program is designed to ensure that every student who graduates from the entrepreneurship program is prepared to develop a feasible business model and investment presentation.
Creating Real Entrepreneurial Actions Through Education (CREATE) Business Idea Pitch
The CREATE® business idea pitch competition includes a multi-tiered series of contests and learning experiences. The initial competition is a pitch session open to UT students from any academic discipline. This empowers students to experience the engaging lifestyle that is entrepreneurship. The top teams/individuals are selected to move to a six-session boot camp to help them prepare a business plan and pitch their plan to a panel of qualified entrepreneur judges. The three winners of the final competition are awarded cash prizes and the opportunity to shadow a successful local entrepreneur. CREATE® enables future entrepreneurs to sharpen their skills through a diverse combination of academic study, experiential learning and access to mentors from the regional business community. Learn more about CREATE.
Entrepreneurs and Experts in Residence (EIR)
The Entrepreneurs and Experts in Residence (EIR) program is designed to give our students, Spartan Incubator and Spartan Accelerator businesses access to individuals who possess exceptional experience in a specific domain (e.g. venture capital, engineering, hospitality, healthcare or technology) or have been part of an entrepreneurial venture. We welcome your application and thank you for considering giving your time to build a powerful force in our economy. Please fill out this application.
The Experiential Classroom is the premier global program addressing best practices in entrepreneurship education. It is a four-day clinic that provides educators with creative and innovative ways to teach entrepreneurship, develop entrepreneurship courses and build entrepreneurship programs. This dynamic workshop is intended for faculty members who have not taught entrepreneurship, as well as experienced faculty searching for new teaching techniques.
New Venture Exposition
Since its inception in 2017, the New Venture Expo is the culmination of work of center students and program participants. Graduate students in the M.S. in Entrepreneurship program, as well as senior undergraduate students majoring in entrepreneurship, present their business concepts. They compete alongside Spartan Incubator and Accelerator program participants, many of whom have already committed hundreds of hours to their new ventures.
Cash prizes are awarded to first, second and third place in two categories: students (graduate and undergraduate) and Accelerator/Incubator participants.
Winners are selected by a panel of UT alumni judges from a variety of diverse backgrounds.
Spartan Accelerator and Incubator
The Spartan Accelerator and Incubator program are designed to help current students and recent alumni grow their business ideas. The goal of this opportunity is to help build the entrepreneurial ecosystem to support the development and launch of new ventures.
Spartan Accelerator: Recent Spartan Accelerator startups have included an online music magazine focusing on daily news and concert coverage, a lacrosse equipment manufacturer offering high-quality lacrosse balls and a peer-to-peer social impact platform that provides crowd-funded lending to small businesses.
Spartan Incubator: The Lowth Entrepreneurship Center hosts a live lab for up to nine early-stage community businesses. Business owners in the UT Incubator receive expert guidance from faculty, venture capitalists and entrepreneurs-in-residence, attend seminars on campus and work with student consulting teams assigned to assist them. Participating businesses represent a broad range of industries, including medicine, horticulture, food service and technology. Incubator businesses have received more than $1.5 million in seed funding since fall 2015.
Spartan Incubator Interest Form

Apply for the Spartan Accelerator
The field of entrepreneurship research has primarily focused on the individual, not the supporting ecosystem. The Tampa-St. Petersburg-Clearwater area has been proven to support new ventures, but our community needs to know what we can do to improve. This academic study of the entrepreneurial ecosystem hopes to provide pragmatic answers to improving our business environment. We host an annual event to provide an update on the improvements being made in the Tampa Bay entrepreneurial ecosystem. Check out our findings from previous years.
Entrepreneurial Ecosystem Video
Register for State of the Tampa Bay Ecosystem
The number of businesses started by women has increased significantly in recent years. Because of this new need, The UT Entrepreneurship center has created a forum that will bring together women entrepreneurs to tell their story and interact with business leaders and students. This program features a panel discussion in the fall semester and a national renowned female entrepreneurial leader in the spring. This program is generously sponsored by Merrill Lynch.
---