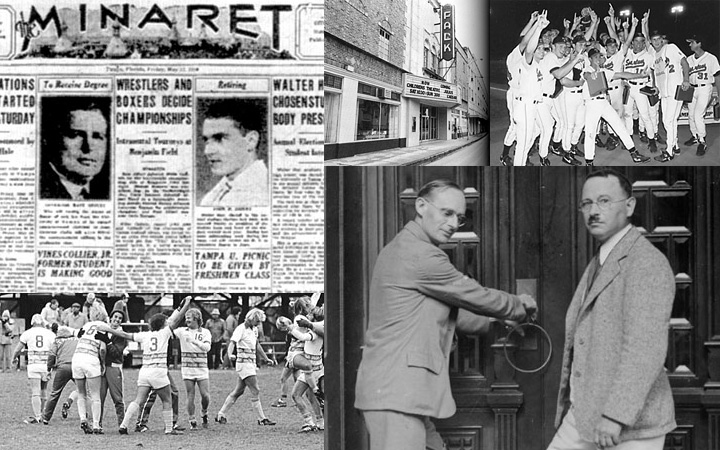 On Aug. 2, 1933, Tampa Junior College was transformed into The University of Tampa when its headquarters moved from the local high school to what is now known as Plant Hall. Leading the new institution was Frederic H. Spaulding, the former principal of Hillsborough High School and the man who had been the motivating force behind establishing the first local university for Tampa's high school graduates.
Plant Hall, the main academic and administrative building for the University, already had an extraordinary history. Formerly the Tampa Bay Hotel, the building represented, and still remains, a symbol of the city and its history. Local historians credit its builder, railroad and shipping magnate Henry B. Plant, with the transformation of Tampa from a sleepy fishing village to what would become a vibrant city of the 21st century.
Built between 1888 and 1891, the hotel was designed to surpass all other grand winter resorts. At a cost of $2.5 million, the 511-room giant rose to a flamboyant height of five stories, surrounded by ornate Victorian gingerbread and topped by Moorish minarets, domes and cupolas.
The rooms that once hosted Teddy Roosevelt, the Queen of England, Stephen Crane and Babe Ruth are now classrooms, laboratories and administrative offices–the heart of The University of Tampa and a landscape for state-of-the-art student learning environments. Today, The University of Tampa serves more than 10,500 undergraduate and graduate students, and Plant Hall remains the foundation of a 110-acre, 71-building campus that successfully blends the historic with the modern.
Known for academic excellence, personal attention and real-world experience in its undergraduate and graduate programs, UT has grown tremendously over the years. UT students come from 50 states and 130 countries. There are over 200 programs of study, including 19 master's degree programs, one doctorate and numerous study abroad opportunities. From its humble beginnings in Plant Hall, UT boasts a $335 million annual revenue and a $1.1 billion estimated annual economic impact.
---
---
Take a look back in history via digitized issues of the Minaret, Moroccan and the UT Journal. This database will give you a new perspective on the rich history of the University through the lens of University publications.
---
Why Do They Call It That?
The University of Tampa was featured in the WTSP-Channel 10 News video series, "Why Do They Call It That?"