Published: January 24, 2017
PNC Bank Concert Artist Series Continues Feb. 5 with Duo-Organists Raymond and Elizabeth Chenault
The University of Tampa's 2016-2017 PNC Bank Concert Artist Series at the Sykes Chapel and Center for Faith and Values resumes Sunday, Feb. 5, with Raymond and Elizabeth Chenault, who were named "the world's premiere duo-organ team" by The Atlanta Journal-Constitution. The concert begins at 2 p.m. and is free and open to the public.

The organ duets on the program were commissioned by the Chenaults and have been widely performed by them, including a medley of songs from Andrew Lloyd Webber's Phantom of the Opera arranged by the Chenaults. In all, the Chenaults have commissioned and premiered more than 50 organ duets, making a significant historical contribution to this area of organ literature.

The Chenault's duet career began in 1979 when Arthur Wills of England's Ely Cathedral composed Toccata for Two for them, followed by John Rutter's Variations on an Easter Theme in 1982. They have been featured recitalists at numerous national and regional conventions and performed in such famous venues as the Spreckels Organ Pavilion (San Diego), the Mormon Tabernacle (Salt Lake City), Washington National Cathedral (Washington, D.C.) and St. Paul's Cathedral (London).

The Chenaults' most recent recording — 20th–21st Century Organ Music for Two, Volume IV — was recorded on two historic organs by E. M. Skinner and Aeolian-Skinner (Washington National Cathedral and St. Andrew's Episcopal Church, Amarillo, TX). Their CDs have been on the best-selling list nationally and have received rave reviews.

Seating is limited and doors open 30 minutes before the concert. Parking is available on campus, 401 W. Kennedy Blvd.

The 2016-2017 PNC Bank Concert Artist Series is underwritten by PNC Bank and the UT College of Arts and Letters. For more information, contact caldean@ut.edu or go to www.ut.edu/sykeschapel.
---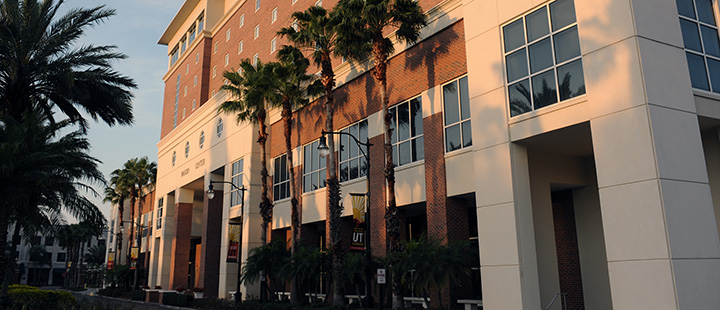 The Adam Smith Society Breakfast is geared toward local business community members operating in the global economy. The event includes breakfast as well as an update on the Tampa Bay economy by John Stinespring, UT associate professor of economics, and Vivekanand Jayakumar, UT associate professor of economics.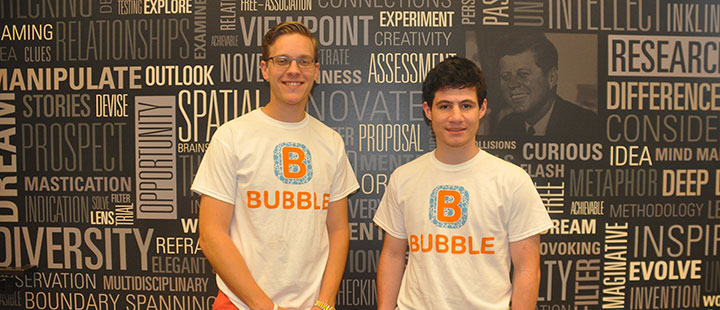 During freshmen orientation in the fall, Michael Joyce '20met a lot of new friends but found it a pain to track down each person's manysocial media handles. So Joyce, along with Andrew Bernstein '20, created amobile application they call Bubble.
Launching at UT's Party in the Park on April 7, the Bubbleapp is a tool that allows users to connect to their friends' social mediaaccounts seamlessly. In addition, users can create groups, called bubbles, andwhen those groups of people go out to a restaurant together, they can receiveup to 25 percent off their meal at places like Tampa Pizza Company and DailyEats.