Published: January 12, 2017
CEOs of Port Tampa Bay, Manitowoc Foodservice and Times Publishing Co. to Speak at UT's Next Business Network Symposium Jan. 24
The leaders of Port Tampa Bay, Manitowoc Foodservice and Times Publishing Co. are slated to speak at the next Business Network Symposium at The University of Tampa on Tuesday, Jan. 24. The event, which is free and open to the public, begins with a continental breakfast at 7:15 a.m. with the program running from 7:45–9 a.m. on the ninth floor of the Vaughn Center, 401 W. Kennedy Blvd.

Paul Anderson is president and CEO of Port Tampa Bay, the largest port in the state of Florida. In the fiscal year ended Sept. 30, 2016, the port handled more than 37 million tons of cargo including virtually every imaginable commodity and ranked among the top eight U.S. cruise ports.

Hubertus M. Mühlhäuser is president and CEO of Manitowoc Foodservice, a global leader in professional foodservice equipment and systems, including refrigeration, ice-making, cooking, holding, food preparation and beverage-dispensing technologies.

Paul C. Tash is chairman and CEO of Times Publishing Co., a newspaper and magazine publisher. Its flagship publication, the Tampa Bay Times, is Florida's leading newspaper and is widely considered among the country's best newspapers with 12 Pulitzer Prizes.

The Business Network Symposium is hosted by The University of Tampa Board of Fellows and the presenting sponsor is LCG. Other sponsors include the Tampa Bay Business Journal and Sodexo Campus Services.

The Board of Fellows holds this networking event three times a year to allow businesses that are well known, changing or new to the Tampa Bay area the opportunity to share their accomplishments and plans with the business community. The final symposium in the 2016-2017 series is scheduled for April 25.

For more information, contact Niti Shah, director of Fellows and Counselors, at (813) 253-6220 or nshah@ut.edu.
---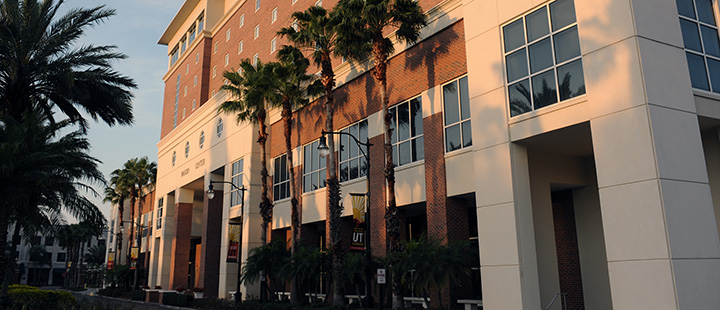 The Adam Smith Society Breakfast is geared toward local business community members operating in the global economy. The event includes breakfast as well as an update on the Tampa Bay economy by John Stinespring, UT associate professor of economics, and Vivekanand Jayakumar, UT associate professor of economics.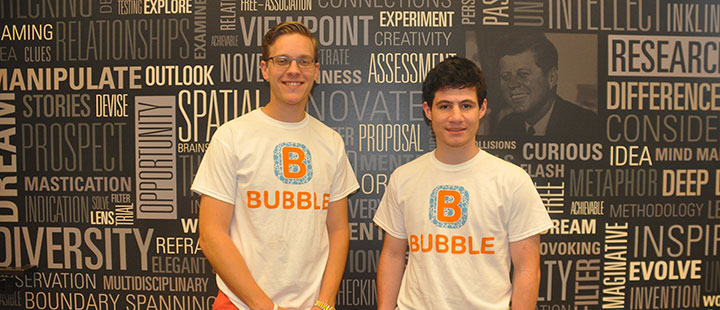 During freshmen orientation in the fall, Michael Joyce '20met a lot of new friends but found it a pain to track down each person's manysocial media handles. So Joyce, along with Andrew Bernstein '20, created amobile application they call Bubble.
Launching at UT's Party in the Park on April 7, the Bubbleapp is a tool that allows users to connect to their friends' social mediaaccounts seamlessly. In addition, users can create groups, called bubbles, andwhen those groups of people go out to a restaurant together, they can receiveup to 25 percent off their meal at places like Tampa Pizza Company and DailyEats.