Published: January 20, 2007
Acclaimed Mezzo-Soprano Angeliki Theoharis to Give Recital at UT Jan. 27
Mezzo-soprano Angeliki Theoharis, whose voice has been praised by The Boston Globe for its "distinctive timbre, steadiness of tone and considerable power," will perform at The University of Tampa on Friday, Jan. 27. The recital, which begins at 7:30 p.m., will be held in Plant Hall's Fletcher Lounge and is free and open to the public.

Accompanied by pianist Grigorios Zamparas, Theoharis will perform a wide variety of musical selections, from works by well-known classical composers such as Handel, Schubert and Brahms, to songs from musical theater greats Gilbert and Sullivan and George and Ira Gershwin.

Tenor Charles Dugan will join Theoharis for Handel's "Son nata a lagrimar" and Gilbert and Sullivan's "O, false one!" from The Pirates of Penzance.

Theoharis has performed as a soloist throughout Italy, the U.S. and in major New York City venues, such as Carnegie Hall, Merkin Hall, CAMI Hall and off-Broadway. She has appeared with regional companies including Opera Manhattan, Lyric Opera of New York, Regina Opera, the Hellenic Music Foundation, Commonwealth Opera, New England Light Opera, Boston Bel Canto Opera, Opera Boston, Masterworks Chorale, Paul Madore Chorale and Assabet Valley Mastersingers. She served as the principal mezzo soloist for the award-winning outreach company, Opera To Go.

Zamparas is an assistant professor of music at UT. He has received critical acclaim for his versatile performing career as recitalist, orchestra soloist and chamber musician in Greece, Bulgaria, former Yugoslavia, Russia, Latin America, South Korea and the United States.

Dugan performs widely in the Tampa Bay area and maintains a successful private voice studio in Ybor City, FL. He is an artist associate faculty member in voice at UT and a singing voice consultant with South Tampa Voice Therapy.
---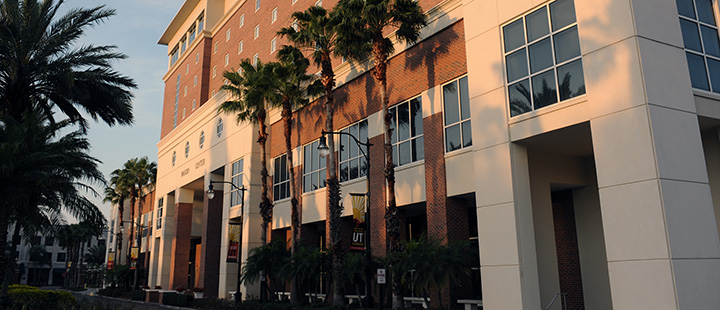 The Adam Smith Society Breakfast is geared toward local business community members operating in the global economy. The event includes breakfast as well as an update on the Tampa Bay economy by John Stinespring, UT associate professor of economics, and Vivekanand Jayakumar, UT associate professor of economics.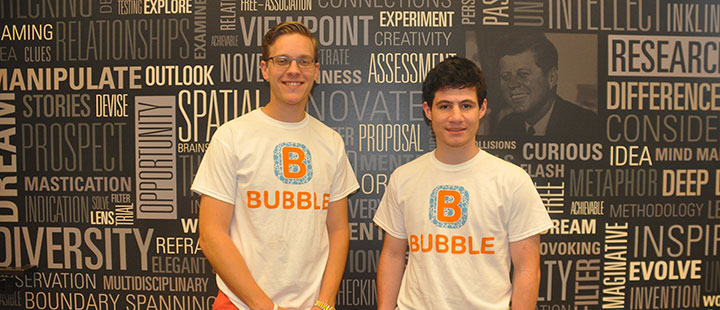 During freshmen orientation in the fall, Michael Joyce '20met a lot of new friends but found it a pain to track down each person's manysocial media handles. So Joyce, along with Andrew Bernstein '20, created amobile application they call Bubble.
Launching at UT's Party in the Park on April 7, the Bubbleapp is a tool that allows users to connect to their friends' social mediaaccounts seamlessly. In addition, users can create groups, called bubbles, andwhen those groups of people go out to a restaurant together, they can receiveup to 25 percent off their meal at places like Tampa Pizza Company and DailyEats.