Wesley Stace was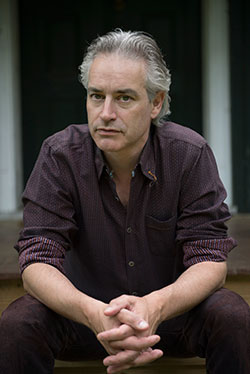 born in Hastings, Sussex, in 1965, and educated at the King's School, Canterbury, and Jesus College, Cambridge. He released 17 albums under the name John Wesley Harding. His new album,
Self-Titled
, for which he has returned to his given name, is released by Yep Roc, September 2013. He has also published three novels.
His first novel, the international bestseller
Misfortune
, was published to great acclaim in 2004. It was nominated for the Guardian First Book Award, the Commonwealth Writers' Prize and the James Tiptree, Jr. Award, listed as one of the books of the year in the
Washington Post
and the
Boston Phoenix
and was one of Amazon's Top Ten Novels of the Year. His second,
By George
, (2007) was one of the New York Public Library's Books To Remember of 2007, and Booklist Editor's Choice for books of the year. His third,
Charles Jessold, Considered as a Murderer
, (2010) was called "the most confident musical fiction I have read in years" (
New Statesman
), and an "Inventive black comedy unfolding with Nabokovian precision" (
Financial Times
). His fourth novel,
Wonderkid
, will be published in February 2014 by The Overlook Press.
Wesley Stace's Cabinet of Wonders, his variety show based at City Winery in NYC, has recently launched on NPR. Since the Cabinet's inception in 2009, the show has become a virtual who's who of contemporary performers, writers and comedians. It's "one of the finest nights of entertainment this city has to offer" (
New Yorker
), "a brilliant evening of laid-back fun" (
Village Voice
) and "one of the most whip-smart variety shows on the market" (
Portland Tribune
). Additional shows will air in 2014.
Stace teaches a course ("How To Write A Song") at Princeton University with poet Paul Muldoon. He has also taught literature at Fairleigh Dickinson University, where he curates the Words & Music Festival.
He has lived in America since 1991, and resides in Philadelphia with his wife Abbey, daughter Tilda, and son Wyn.
---