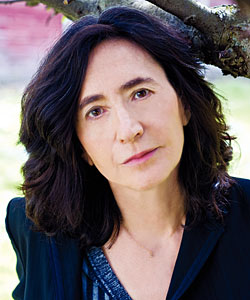 Francine Prose grew up in Brooklyn and attended Radcliffe College, where she majored in English literature and from which she graduated in 1968. She briefly attended graduate school in medieval English literature, then left Harvard to live for a year in India, where she began to write her first novel, Judah the Pious. Upon returning home, she sent her novel to a former writing teacher who in turn forwarded it to the legendary editor Harry Ford, then at Atheneum. He bought the book immediately, and it was published when she was 26.

Since then, Prose has written 14 novels, among them Bigfoot Dreams, Primitive People, Household Saints (which was made into a 1993 film directed by Nancy Savoca and starring Lili Taylor, Tracey Ullman and Vincent D'Onofrio), Blue Angel, a finalist for the National Book Award, A Changed Man and most recently Goldengrove. Her short story collections include Women and Children First and The Peaceable Kingdom; she has also published three books of translation and a collection of novellas, Guided Tours of Hell. She has written five books for children, and two novels for young adults, After and Bullyville. Her books of nonfiction include The Lives of the Muses: Nine Women and the Artists They Inspired, Caravaggio: Painter of Miracles and Gluttony. Reading Like a Writer: A Guide for People Who Love Books and for Those Who Want to Write Them was a New York Times Bestseller. Most recently she wrote Anne Frank: The Book, the Life, the Afterlife.

Her stories, reviews, cultural criticism and essays have appeared in such publications as The New Yorker, The New York Times, The New York Review of Books, Atlantic Monthly, Art News, Elle, The Paris Review and Tin House; she has written frequently on art for The Wall Street Journal. She is a contributing editor at Harpers Magazine, for which she has written such controversial essays as "Scent of a Woman's Ink" and "I Know Why the Caged Bird Can't Read."

Prose is the recipient of the Dayton Literary Peace Prize, The Edith Wharton Lifetime Achievement Award, a Guggenheim Fellowship, two NEA grants, two New York State Council on Arts grants, a PEN Translation Prize, one Washington University International Medal in the Humanities and two Jewish Book Council Prizes. In 1989, she traveled throughout the former Yugoslavia on a Fulbright Fellowship. She is currently a Distinguished Visiting Writer at Bard College and has taught at Harvard, the University of Arizona, the University of Utah, the Iowa Writers' Workshop and the Sewanee and Bread Loaf Writers' Conferences. She is a member of the American Academy of Arts and Sciences, the New York Institute for the Humanities, the American Academy of Arts and Letters, and has been a Resident in Literature at the American Academy in Rome. She was one of the first recipients of a Director's Fellowship at the New York Public Library's Center for Scholars and Writers. She is a former president of PEN American Center.

Prose, the mother of two grown sons, lives in New York City with her husband, the painter and illustrator, Howard Michels.

Her new novel, My New American Life, was published by HarperCollins Publishers in May 2011.
[Return to Faculty and Residency Participants]
---