Published: January 06, 2017
UT's Modern Advances in Leadership Certificate Program Begins Jan. 17
Looking to sharpen your leadership acumen and improve your leadership mindset? Then consider signing up for The University of Tampa's Modern Advances in Leadership Certificate Program, presented by the Sykes College of Business TECO Energy Center for Leadership. The program runs from Jan. 17–April 18 from 6–9 p.m. on select Tuesday evenings in the Sykes College of Business, Room 131.

The program is open to UT graduate students as well as beginning–mid-level professionals with three or more years of experience.

This certificate program is designed to provide transformative and interactive learning experiences for individuals and organizations seeking to refresh, re-equip or advance their leadership skills. Each course, throughout the program, focuses on a unique area of leadership in the ever-changing business world. The interactive approach teaches both future and current business leaders how to implement each unique leadership practice.

Students in the program will learn to:
Sharpen their leadership acumen
Improve their leadership mindset
Enhance negotiation skills
Develop an entrepreneurial leadership spirit
Discover their potential through team leadership
Understand the contextual factors in the workplace
As part of the program, each participant will receive three complimentary leadership coaching sessions by professional coaches.

Each participant will receive a certificate upon completion of the program.

Tuition is $1,350 for nonprofit organization registration and $1,500 for general registration. Register by Friday, Jan. 13, at www.ut.edu/cfl/leadershipdevelopment. (UT graduate students should register via SpartanWeb.)

For more information, go to www.ut.edu/cfl/leadershipdevelopment. For questions, contact Whitney Vance, coordinator of Sykes College of Business operations, at (813) 257-3782 or wvance@ut.edu.
---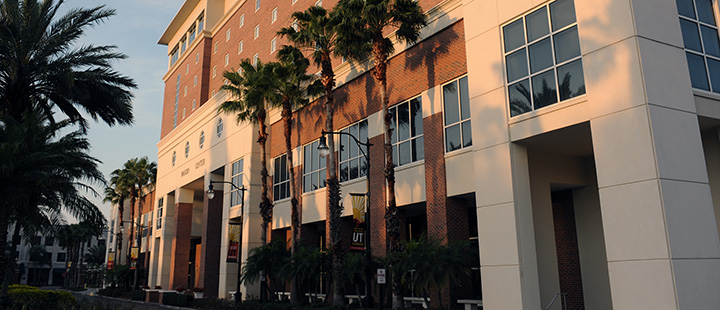 The Adam Smith Society Breakfast is geared toward local business community members operating in the global economy. The event includes breakfast as well as an update on the Tampa Bay economy by John Stinespring, UT associate professor of economics, and Vivekanand Jayakumar, UT associate professor of economics.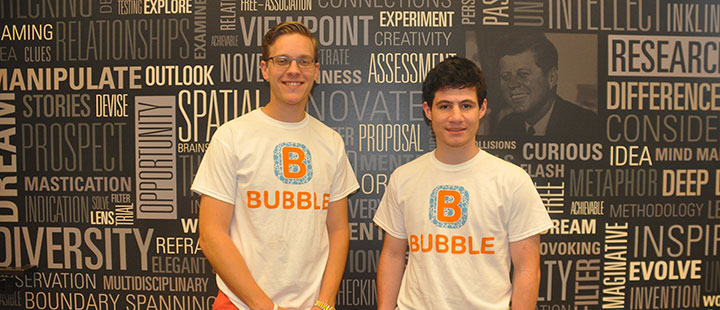 During freshmen orientation in the fall, Michael Joyce '20met a lot of new friends but found it a pain to track down each person's manysocial media handles. So Joyce, along with Andrew Bernstein '20, created amobile application they call Bubble.
Launching at UT's Party in the Park on April 7, the Bubbleapp is a tool that allows users to connect to their friends' social mediaaccounts seamlessly. In addition, users can create groups, called bubbles, andwhen those groups of people go out to a restaurant together, they can receiveup to 25 percent off their meal at places like Tampa Pizza Company and DailyEats.