Published: February 04, 2021
Super Bowl Sparks Opportunity for Justice with Graduate Student
When the Super Bowl comes to Tampa on Sunday, Brianna Mercer '16 hopes it leaves a lasting impression on more than just football fans. She's hoping the spotlight of the big game and the influence of the National Football League (NFL) lift up the Tampa community.
Mercer, who is in UT's graduate program in criminology and criminal justice, is the only student representative on a 25-member committee on systemic justice called resoLVe. That committee is part of Forever 55, a social legacy program funded for $2 million by the Tampa Bay Super Bowl LV Host Committee and the NFL to create programs (with 12-to-18-month timelines) focused on six pillars: early childhood education, families, food insecurity, health and wellness, sustainability and systemic justice.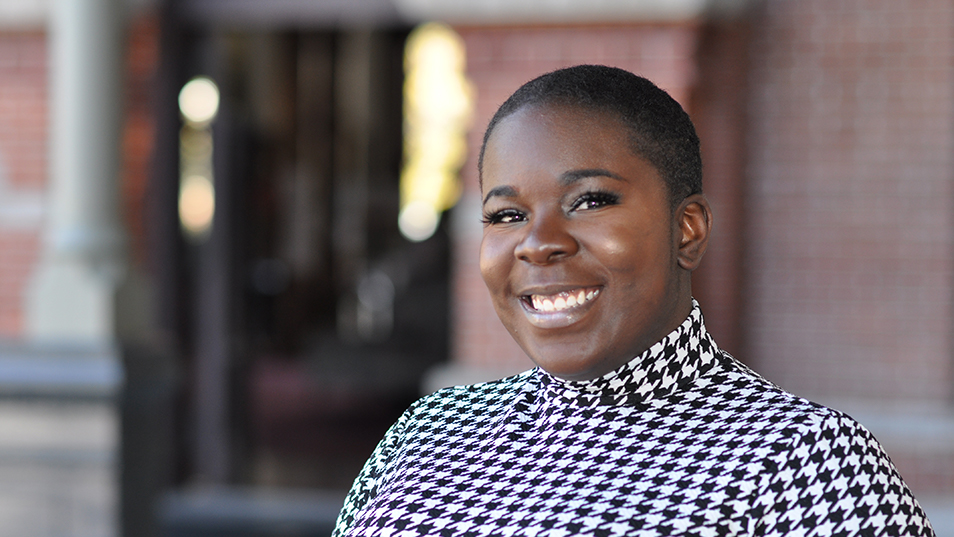 Brianna Mercer '16 is the only student representative on an NFL committee on systemic justice called resolve.
"The purpose of this committee is to create sustainable programming throughout Tampa that won't just stop on Feb. 7," said Mercer, who was nominated for the position by Kathryn Branch, assistant dean of the College of Social Sciences, Mathematics and Education and professor in the Department of Criminology and Criminal Justice.
Mercer serves as a liaison between the systemic justice sub-committee and the UT community, which will be involved in program implementation for an 18-to-32-year-old demographic, likely in the area of criminal justice reformation. The sub-committee is working on programming in the areas of community policing, financial literacy and empowering transformative community conversations. The team launched its first event, a virtual community conversation attended by more than 250 people, on Jan. 18 that allowed people a platform to discuss the issues of systemic injustice and racism and problem solve ways the committee can help address them.
Other members on resoLVe include representatives from Metropolitan Ministries, the Tampa Police Department, Hillsborough County Sheriff's Office, the NFL, the host committee and various neighborhood partners, among others. The membership includes people in positions of power to make the changes necessary, said Mercer, who is hopeful for a lasting impact.
"If you can put out the mini fires while they are mini fires, you don't necessarily then have to do damage control when the whole building is burning down," said Mercer.
No Leap of Faith Needed
Mercer, of Washington, D.C., graduated from UT with her undergraduate degree in criminology and criminal justice in 2016. She completed a semester of law school and a couple of years working in the legal field, determining that she didn't want to argue for laws — she wanted to write policy.
While working full time as a paralegal for Allstate, Mercer returned to UT to get her master's in criminology and criminal justice, a move she said wasn't a leap of faith.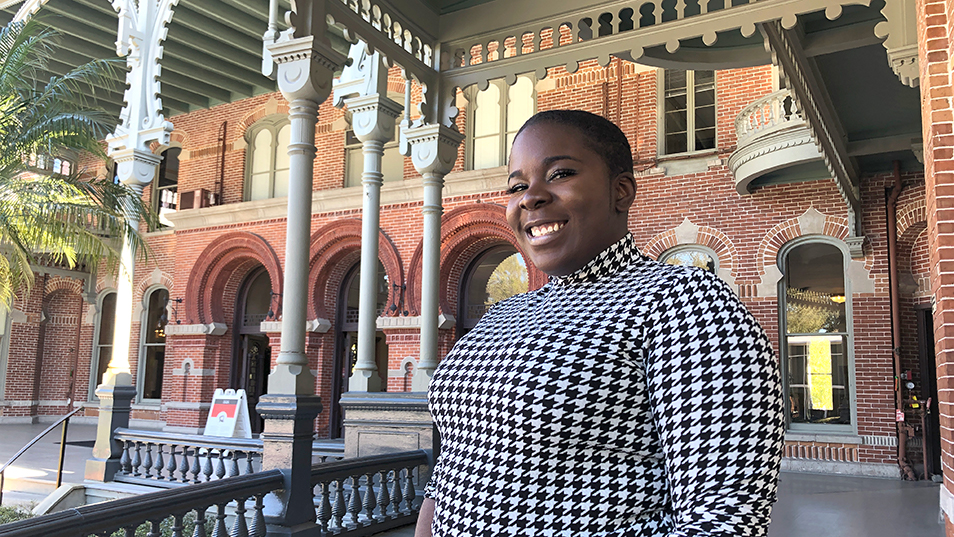 "I want to be part of a spark that starts the overall flame for change," Mercer said.
"Going to UT has made me able to walk into places and be comfortable when they are talking about criminal justice reform," said Mercer, whose goal is to earn a doctorate in public policy.
"Within the last two years, a lot of my friends have come to me, especially when it comes to criminal justice reform and issues relating to women. I like when they ask me questions. I'm able to synthesize the academia, break it down and make it understandable," Mercer said. "I like being able to showcase that I'm actually learning something in school and not just memorizing things for a test. I'm making it applicable to everyday life."
In addition to being a member of Delta Sigma Theta sorority, Mercer is involved in UT's student and faculty working group to address systemic racism in the Department of Criminology and Criminal Justice, which is advised by Rhissa Briones Robinson, an assistant professor in that department.
The working group, which started in the summer of 2020 to take a stand against injustice, has a goal to educate the UT community about the issues of systemic racism and how they are being addressed in the Tampa community. The group hosted a panel of experts in November at a virtual event called "Exploring Systemic Racism: Tracing the Violent History of Our Criminal Justice System."
"I don't think we could have gotten that event off the ground without (Mercer). We needed her insight and experience, and I think she was an important component, an important part of ensuring that event took place," Robinson said. "What speaks to me most is her dedication to the issue. She was very impassioned about it, attended every meeting we had and always had wonderful insight. She also did a lot of research to come up with statistics that might draw greater attention to this particular issue that we could then put out there for students to see."
Being the Spark
Mercer's positions on both the UT and the larger NFL systemic justice committees align perfectly with her career goals. She said they're giving her perspective on how policy can be influenced by both small and large organizations.
As for resoLVe, Mercer said if the programming and policies they create in Tampa Bay are successful, the NFL wants to replicate them in their other Super Bowl markets.
"Sometimes policy is slow. As someone who wants to make policy, I want to be able to see the overall climax and how it works out," she said. "We'll be able to look back in 18 months and see where we were successful, where we fell short, this is where we improved areas and where we could make more improvements."
Then Los Angeles, which is hosting Super Bowl LVI in 2022, can look at Tampa's successes and tweak for their community, Mercer said.
"I want to be part of a spark that starts the overall flame for change," she said.
Have a story idea? Contact Jamie Pilarczyk, Web Writer
Read more UT Life stories.
Subscribe to News and UT Life
---