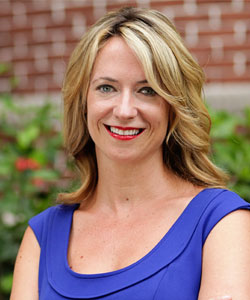 Meet Kathryn Branch
Chair/Professor, Criminology and Criminal Justice
Phone: (813) 257-1705
Email: kbranch@ut.edu
Address: 401 W. Kennedy Blvd. Tampa, FL 33606
Mailbox: Q
Building: PH Room: 411

---
Education
1998 University of South Florida, B.A.
1999 University of South Florida, M.A.
2005 University of South Florida, Ph.D.
Courses Taught
Juvenile Delinquency
Victimology
Race, Class, Gender and Crime
Research Methods
Introduction to Criminal Justice
Introduction to Criminology
Internship in Criminology
Criminology Capstone Experience
Career Specialties
Kathryn Branch's research interests include violence against women and the intersection of gender, class, race and crime. Her current research focuses on the secondary impact of sexual assault on secondary victims such as faculty and friends of survivors. She is especially interested in the ways in which sexual violence affects college populations and campus communities. Her recent research is featured in
Feminist Criminology, The Journal of Interpersonal Violence, Violence & Victims
, and
Violence Against Women
.
Professional and Community Activities
Branch is committed to serving her profession and discipline. Nationally, she is an active member of the American Society of Criminology (ASC) and the Academy of Criminal Justice Sciences (ACJS). She is an active member of the academic community at The University of Tampa and an enthusiastic participant in University life. She is involved in campus initiatives to raise awareness about dating violence and sexual assault, including the Red Flag campaign, One Student and Take Back the Night.
Branch is also dedicated to serving the community. She was selected by the University as the 2014 Joyce Keller Faculty/Staff volunteer of the year. In 2016, she was selected by Bay News 9 as an Everyday Hero for her work with the Girls on the Run of Greater Tampa Bay. She is a race committee member for Girls on the Run Greater Tampa Bay and has been a solemate and running buddy for the program. Branch has participated in numerous community events to raise awareness about sexual violence including Take Back the Night and Operation Freefall: the two-mile high stand against sexual assault.