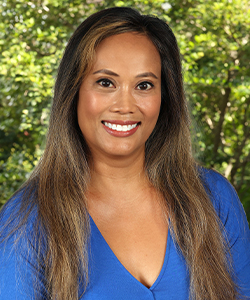 Meet Rhissa Robinson
Assistant Professor, Criminology
Phone: (813) 257-3220
Email: rrobinson@ut.edu
Address: 401 W. Kennedy Blvd. Tampa, FL 33606
Mailbox: Q
Building: PH Room: 311A

---
Education
1998 Virginia Tech, B.S.
2009 University of South Florida, M.A.
2018 University of South Florida, Ph.D.
Courses Taught
Juvenile Delinquency
Research Methods in Criminology and Criminal Justice
Criminological Theory
Introduction to Criminal Justice
Career Specialties
Rhissa Briones Robinson's core research interest lies in juvenile delinquency, youth coming in contact with the juvenile justice system and change from continued deviance in adulthood. This focus has been operationalized in two distinct research strands: change in youth behavior with participation in drug abuse interventions and change from delinquent/criminal initiated through the introduction of socializing institutions in adulthood.
Professional and Community Activities
Briones Robinson has collaborated with local youth agencies in the 13th Judicial District. These efforts were based on National Institute on Drug Abuse (NIDA) funded projects that assessed the efficacy of brief interventions among drug-abusing youth. This involved maintaining working relationships with several community agencies including Juvenile Drug Court, the Juvenile Assessment Center, the Juvenile Diversion Program and the Agency for Community Treatment Services, Inc.
Briones Robinson is a current member of the American Society of Criminology (ASC) and the American Academy of Criminal Justice (ACJS). Her co-authored publications have appeared most recently in Criminal Justice and Behavior, Journal of Child and Adolescent Substance Abuse, and Journal of Educational and Developmental Psychology.