Published: July 05, 2022
Professor, Alum's Documentary Receives Nod From Sunscreen Film Festival
Christopher Boulton's Sunscreen award-winning short documentary "Progress" almost didn't happen.
Boulton, an associate professor of communication, said an essential piece was missing: the backstory.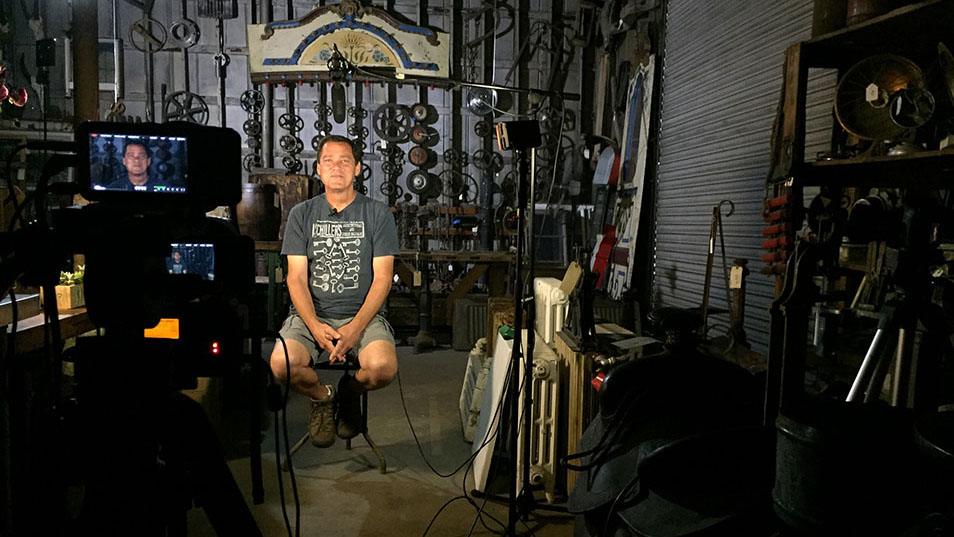 Behind the scenes of filming the short documentary "Progress," Larry Schiller is interviewed. Photo by Eric Langhoff '15
The film profiles the owners of Schiller's Architectural and Design Salvage, an antique store in Tampa, and traces the history and original use of a unique item in the store, initially described to Boulton as a "wine pump," since it was found at a French vineyard.
Its size is relative to a wheelbarrow, an industrial cart with a wooden flatbed and a copper tub connected to a manual pumping mechanism.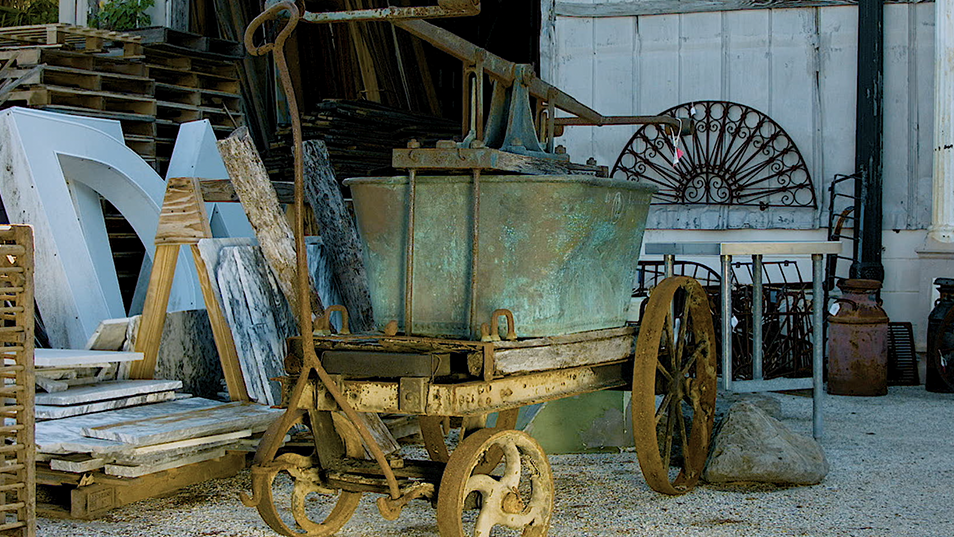 The item was initially described to Boulton as a "wine pump" because it was found on a French vineyard. Photo by Langhoff
Upon walking into the store, Boulton told the owner of his intention of making a film about an unusual object with a mysterious origin. Larry Schiller showed him the pump, which Boulton said he was immediately drawn to because of its battered appearance and stubborn spirit: despite the knotted wood, rusty wheels and corroded copper, it still worked.
"It was like walking into a colorful and richly textured menagerie of extinct tools and untold stories," Boulton said of first walking into Schiller's.
Boulton began filming footage and interviews around five years ago with Eric Langhoff '15 as lead cinematographer, but he couldn't locate any visual evidence of the object's original intended use.
Langhoff, who graduated with a dual degree in film and media arts and entrepreneurship, first met Boulton as a sophomore in his COM 303 Studio TV course. They've since worked together on five different projects, one of which, Life After Life, was supported by an Honors Program fellowship for Langhoff in his junior year.
The more Boulton spoke with Schiller, the better he understood the nostalgia triggered by the objects in his store. Many of the items rarely come with a clear genealogy, Boulton said, and have passed through so many hands that their intended use gets lost with time.
He decided to put the project on the backburner while he worked on other things, remaining hopeful that he would find film of the historic use of the pump.
A year ago, he decided to try again, and stumbled upon a short film from France called "Les Petit Vagabonds," which depicted the item in action. The item, it turns out, was actually a firetruck from the 1700s. Once Boulton found the film he knew he had what he needed to complete "Progress."
The film premiered six months later at the Soo Film Festival in Sault Ste. Marie, MI, and has, to date, screened at 10 other festivals. It just won Best Short Documentary at the Sunscreen Film Festival this past June.
The film examines what has been lost and what has been gained by modern advancements.
We live in an era of planned obsolescence, Boulton explained, such that many so-called "durable goods" are not durable at all. "While this consumption cycle may be good for the economy, it's bad for the environment and, in my opinion, can even be bad for the soul," Boulton said. "When a tool is built with enough care and craft to span generations, it binds them together in common purpose. Such heirlooms can link us to both our past and future and thereby help us better understand our identities and our place in the world," he said.
Boulton, who said working with Langhoff has been the most rewarding creative collaboration of his career, was the first UT professor to win a Sunscreen Film award and dedicated the honor to the next generation of filmmakers, who he encourages to find honest and talented collaborators, because "iron sharpens iron."
Associate Professor Christopher Boulton accepts an award for the Best Short Documentary at the Sunscreen Film Festival. Video by Julie Chalhoub
"One thing I really appreciate is the trust he puts in me, allowing me to really own my craft and expertise," said Langhoff, "Together we balance each other's skillsets to create a fantastic final product. It is certainly the quintessence of teamwork."
Boulton is now working on a 360-video called Cosmic•Atomic created for virtual reality headsets that will take viewers on an immersive trip across time and space. Langhoff helped him design the visual effects for the project.
"Filmmaking is a collaborative medium, and Eric Langhoff is a collaborator par excellence," he said.
Have a story idea? Contact Brianna Kwasnik, Digital Content Editor/Writer
Read more UT Life stories.
Subscribe to News and UT Life.
---