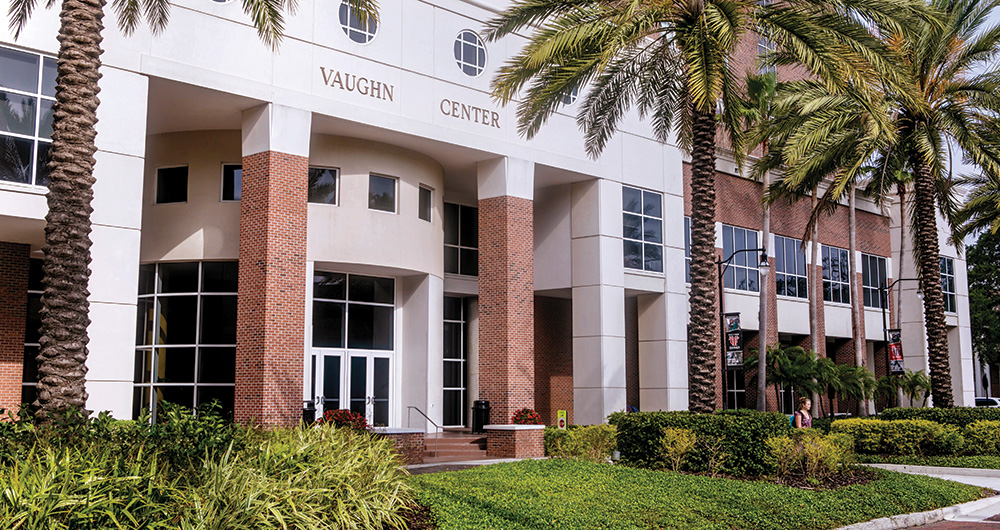 The University of Tampa provides many lifestyle options. While every effort is made to accommodate all new and returning students who request housing, beginning in Fall 2016, new UT students will receive priority for on-campus residential assignments. Austin, McNeel Boathouse, McKay, Morsani, Smiley and Vaughn Center will all be designated as first-year residence halls. Depending on the first-year student class size, Brevard may also be used for some first-year students. Brevard, Jenkins, Palm Apartments, Straz and Urso will be designated as upper-class residence halls. Upper-class students will also be able to select the Barrymore Hotel through room selection.
Each building offers different floor plans. Most new students are expected to share rooms with at least one other student. New students may also be assigned to triple or quad rooms. Most singles are reserved for upper-class continuing students. Learning communities provide opportunities for students to live together based on similar interests.
In order to ensure a healthy working, living and learning community, The University of Tampa campus is smoke and tobacco-free. Read the full policy, find cessation resources and frequently asked questions.
Amenities
All student rooms are air-conditioned. Cable television is included in room rates. Each room is furnished with a bed (36-by-80 inches), desk, chair, closet/wardrobe and dresser. Students living on campus have free internet access through Wi-Fi and ethernet connections in their rooms. There are lounges, vending machines, laundry facilities, game rooms and study areas in all buildings.
Professional Staff
In each residence hall, area coordinators and assistant directors supervise specially selected and trained resident assistants. Office of Residence Life staff assist students and promote an atmosphere conducive to academic achievement, personal growth and physical well-being. Students can pursue many leadership opportunities through residence hall positions and organizations.
Accommodations
Students with accommodation needs must submit documentation to Student Accessibility Services from a physician before the deadline or May 1 for fall and Oct. 1 for spring. Please review Student Accessibility Services information.
Residence Halls
The Vaughn Center, a nine-story multi-purpose facility, houses 550 students on the third through eighth floors in rooms of double or triple occupancy.
Austin Hall is home to more than 540 students who live primarily in triple rooms with suite-style bathrooms.
Smiley is UT's smallest traditional residence hall and is built around a sunny courtyard and houses 130 students.
Brevard Hall is centrally located on campus. It has 470 suite-style rooms with shared bathroom and common area and the option of a private or shared bedroom.
The Boathouse is on the bank of the Hillsborough River and is convenient to the library and Plant Hall. Its 17 residents enjoy the small community and a large deck overlooking the river and downtown skyline.
McKay Hall houses approximately 160 students mostly in double rooms with shared, suite-style bathrooms. Located on the bank of the scenic Hillsborough River, it is near Plant Hall and the library. Residents also enjoy easy access to picnic tables and a sand volleyball court.
Straz Hall, an apartment-style, eight-story building, houses more than 480 students.
Urso Hall is an 11-story building that houses 182 residents in single and double studio apartments.
Morsani Hall houses 460 students in double and triple rooms. The first floor features many dining options.
Barrymore Hotel is UT's off-site residence hall. Students enjoy this housing partnership with amenities including pool, fitness room, free shuttle and restaurants.
Jenkins Hall is a suite-style building consisting primarily of four single bedrooms that share two bathrooms and a common living area. It houses more than 520 students.
Palm Apartments, UT's newest residence hall, is home to approximately 660 students. Apartments feature four single bedrooms with a common living area, bathroom and kitchen.
---