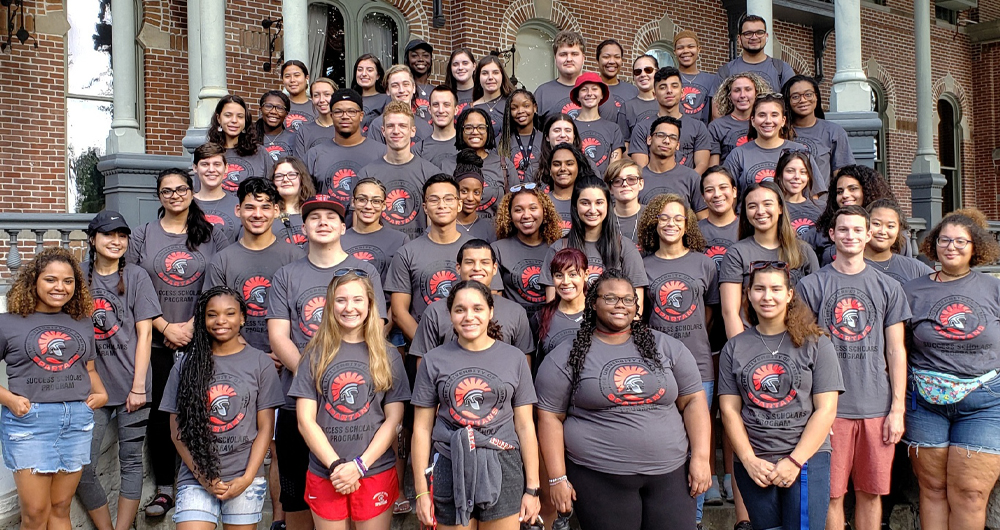 Welcome to Camp Spartan!
What is Camp Spartan?
Camp Spartan is a pre-orientation, off-campus experience that provides students with the opportunity to build strong bonds with their undergraduate peer mentor (known as a SPEAR) and their fellow Success Scholars, while participating in traditional "camp" activities and discovering more about themselves and their potential to succeed at UT!

During the Camp Spartan experience, we will offer an array of interactive activities and games, while also helping students explore the majors, careers, academic skills and personal values needed to start off their UT experience on the right foot. Students will also be given free time to explore the campgrounds, play games, make crafts and get to know your fellow scholars. And don't forget the campfires and s'mores!

This exclusive experience for first-generation and/or underrepresented Success Scholars at UT will allow students to participate in outdoor activities such as:
Low Ropes Course
Ziplining
Canoeing
Archery
Swimming
Rock Climbing
...while also gaining more knowledge in the following areas:
UT History, Culture and Spartan Pride
Identity Development and Personal Strengths©
Persistence, Resilience, Grit
Career/Major Exploration
Academic Skills
Diversity and Inclusion
Success Scholars Program
The connections students will form and the activities experienced will also help build the confidence needed to feel comfortable in the UT community. The Camp Spartan experience is the first major event option for incoming students in the Success Scholars program, but is not required to participate in the Success Scholars program throughout the year.
*Please note this experience is ONLY open to those incoming students who are invited to participate in the Success Scholars Program and is not open to all UT students.*
When does Camp Spartan happen?
Camp Spartan typically occurs the week prior to the start of classes and lasts for four days. Dates for the next event will be posted as soon as they are confirmed. Camp Spartan takes place both on campus and off campus (no more than one hour away).
How much will Camp Spartan cost?
This varies from year to year, but typically there is a non-refundable registration fee of $98 that will help cover the cost of the outdoor activities and supplies for the event, while all other costs are covered by the University. Students will be provided with the following:
Meals (11) and snacks
Overnight lodging (two nights) in air-conditioned, bunk-bed style quarters with indoor plumbing
Transportation to and from Cedarkirk site
A Camp Spartan shirt
A Success Scholars shirt
A Success Scholars bag or water bottle
Miscellaneous camp supplies
Submission of payment will reserve your spot for this great experience!
How do students sign up?
Registration for the event will be on a first-come, first-served basis. Limited space is available, so students should not delay. The deadline and link to register for this exciting adventure will be posted as soon as the next Camp experience is confirmed.
---