Published: May 07, 2022
UT Graduates Head to Positions From TikTok to Capitol Hill
While TikTok helped Gaby Almeida '22 stay entertained throughout college, she never imagined it would be anything more than laughs and life hacks. That is, until last year when she applied for a Summer 2021 internship with TikTok on a whim.
That "just for fun" summer internship got real when not only did she get the position, but they asked her to stay on full-time after graduation. After Almeida walks the commencement stage this Saturday, she will leave her lifelong home of Tampa Bay to head to Los Angeles to start a new position as a sales coordinator at TikTok headquarters.

Gaby Almeida '22, a marketing major with a minor in film and media arts, turned an internship into a full-time job with TikTok. Photo courtesy of Gaby Almeida
Almeida will be one of 1,713 degree-seeking candidates participating in UT's 154th commencement on Saturday, May 7, at the Expo Hall of the Florida State Fairgrounds.
"It was kind of crazy starting senior year with a whole job lined up and a whole life ahead of me," said Almeida.
Almeida started out at UT as a marketing major, but her passions led her to picking up a minor in film and media arts, "which made total sense," Almeida said. Turns out, the intersection of marketing and film created the perfect balance of skills for her new role. As a sales coordinator for TikTok, she will assist in selling ad space to major brands and overseeing their performance on the app.
Ever since directing her siblings in homemade movies, Almeida has had dreams of becoming a big-shot producer. So even though this will be her first time living outside of Florida, Almeida's imagination is a Los Angeles native. At UT, she was able to dabble in her craft through a producing class and an independent study working with Aaron Walker, chair of the Department of Film, Animation and New Media and associate professor.
"I've produced two short films so far, but really dream of being a legitimate producer at a big production company one day, or some sort of manager," said Almeida. "I've had multiple amazing professors at UT; I wouldn't be anywhere without them. My film professors are the ones who really pushed me in the direction of pursuing something in media and entertainment."
PAC'ing Up
Once Grace Mercer '22 snags her degree in advertising and public relations this Saturday, she'll be heading to Capitol Hill to be the director of political affairs for Grand Valley Consulting.
Mercer's initial college experience saw a few rounds of trial and error. "I wasn't sure what I wanted to do when I started at UT. I was determined to try and learn about all sorts of fields to see what felt best."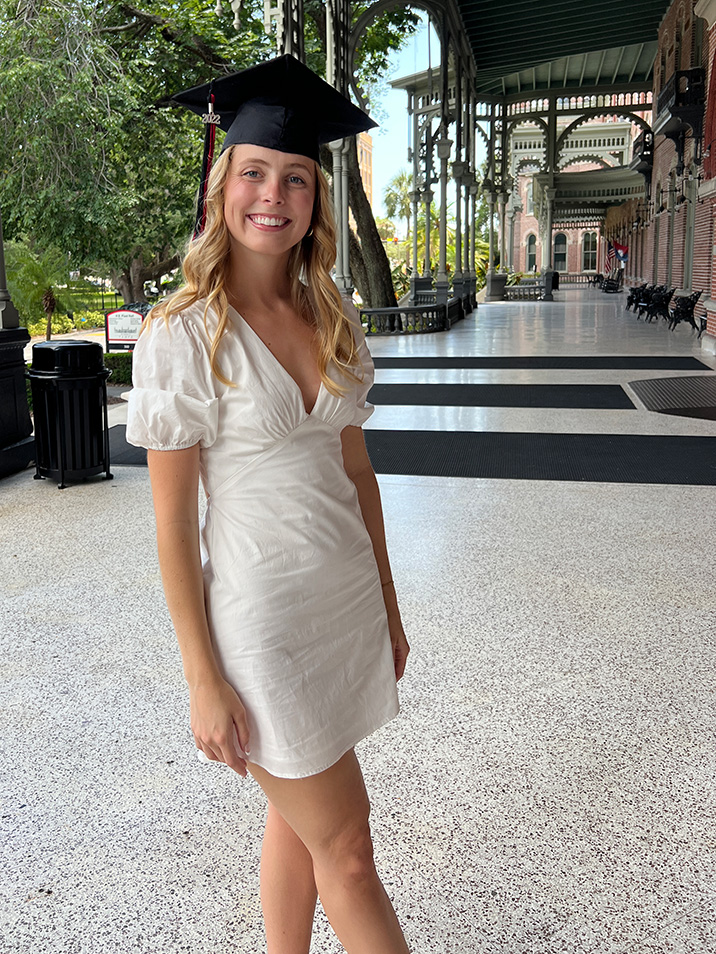 Grace Mercer '22, an advertising and public relations major, is heading to Capitol Hill to be the director of political affairs for Grand Valley Consulting. Photo courtesy of Grace Mercer '22
After visiting her brother who works in government relations in Washington, D.C., Mercer was inspired to get more involved. "I fell in love with D.C. and the world of politics," said Mercer. "I am definitely in (it) for the long haul."
She landed an internship fundraising for a few congressional campaigns and ended up loving it. Luckily for her, she'll be getting to do even more of that in her new role.
As director of political affairs, Mercer will be working with political action committees, or PACs, which are private organizations that raise money for elections. This will include working with members of Congress and corporate PACs on major donor fundraising and event planning.
"(Going to UT) has been the best decision I have made, and I'm so grateful," Mercer said. "UT gave me the space to develop into the person I am and without the support of professors and meeting my best friends here I would not be where I am today."
Spartans Far and Wide
Almeida and Mercer are just two examples of UT's spring class of 2022 who be taking the world by storm.
Just take Madison Schorle '22, for example. Schorle, a marine science - biology major with minors in communication and environmental science, worked as a freelance photographer for the University throughout college, but her camera still has some more exploring to do around the bay. Schorle accepted a position as a social media and communications coordinator for the local nonprofit organization Keep Pinellas Beautiful.

Leigh Dittman '22, a nursing major, and her service dog, Nerf, hope to work together in a Tampa-area hospital with women and children. Photo by Jacqueline Sanchez
Or there's Leigh Dittman and her service dog, Nerf, who hope to work together in a Tampa-area hospital with women and children. Yes, that's right — together. When Dittman graduates this Saturday, both she and Nerf will receive a degree in nursing (Nerf's technically will be an honorary degree). Dittman will become a registered nurse, but Nerf has always been a healer.
And, of course, there's UT's own Willy Wonka-in-training, who will likely be celebrating graduation on Saturday with his own business' products. Entrepreneurship major Austin Gappelberg '22 runs Hampton Chocolate Factory at Sparkman Wharf in Tampa with his younger brother, Grant Gappelberg '25, a marketing major. After working in their family-founded Hampton Chocolate Factory in New York throughout childhood, the two brothers opened their own franchise on the other end of the coast earlier this spring.

Here are some statistics about the graduating class:
Total graduates: 1,713
Countries represented: 18
Percent of graduates from Florida: 52%
Undergraduate students
Total bachelor's degree candidates: 1,488
Summa cum laude (GPA 4.0): 8
Magna cum laude (GPA 3.75 or higher, but less than 4.0): 189
Cum laude (GPA 3.5 or higher, but less than 3.75): 259
Top three most popular undergraduate majors in this class: marketing, finance, criminology and criminal justice
Graduate students
Total master's candidates: 225
With highest honors (GPA 4.0): 9
With honors (GPA 3.9 or higher, but less than 4.0): 15
MBAs awarded: 54

Watch the Class of 2022 on the commencement livestream.
Story by Madeline McMahon
---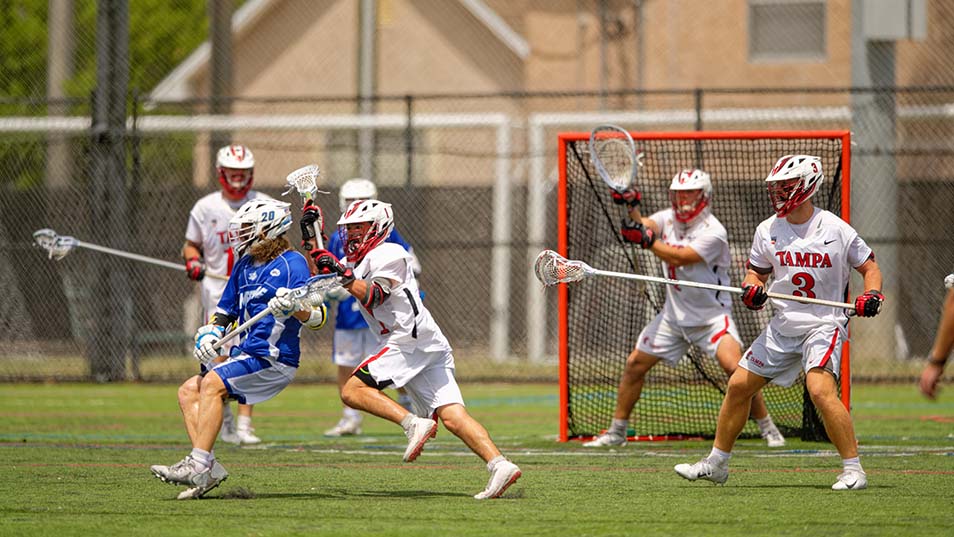 The University of Tampa Spartan's men's lacrosse team defeated Limestone University Sunday to advance to the NCAA Championship for the first time in the program's history.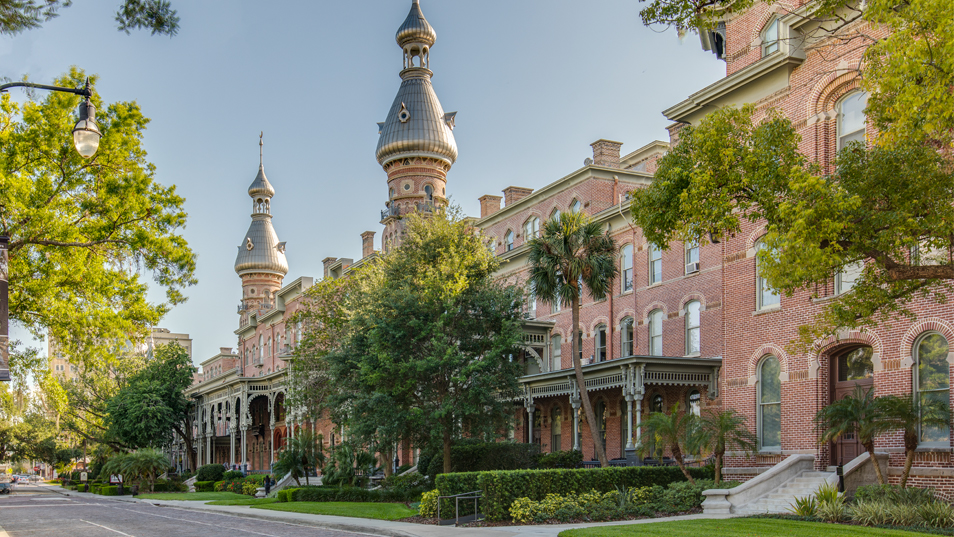 The Liberty Bell Award recognizes an outstanding non-lawyer citizen whose community service strengthens the effectiveness of the American system under the law.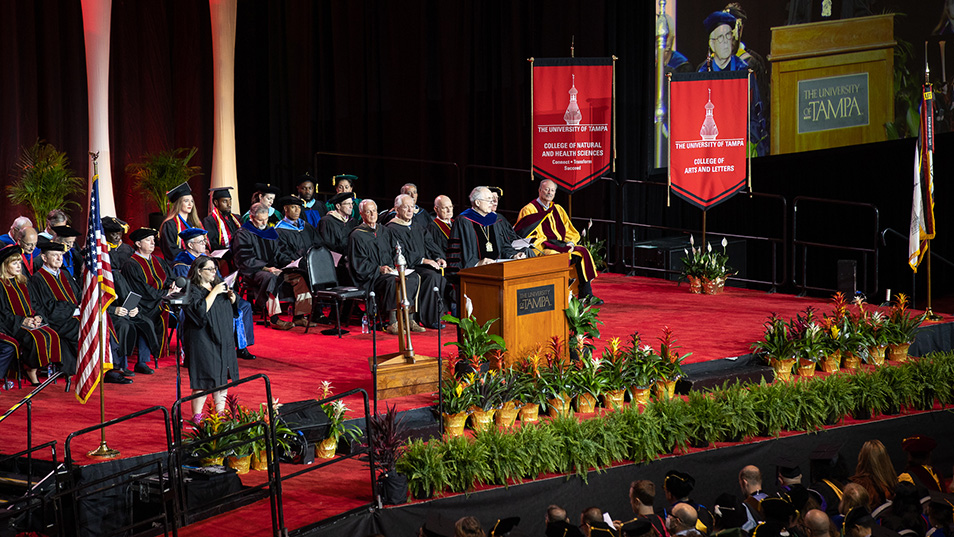 Carlos Baldor Jr. '87 and Javier Baldor '89 gave the addresses at the two ceremonies of UT's 154th commencement.