Published: March 17, 2020
Graphic Design Major Wins Statewide Advertising Competition
Advertising and marketing campaigns can take weeks, usually months to develop. So when Brooke Rogers '21 had 48 hours to complete a campaign for a competition, the stress was palpable.

Brooke Rogers '21 and her team won the weekend-long Mobilize Student Ad Competition.

"I slept maybe five hours in the total of three days. It was kind of crazy," said Rogers. "But I would do it all over again."
Rogers was part of a five-person team of college students from all over Florida who won the annual, weekend-long Mobilize Student Ad Competition this February hosted by 22squared, an ad agency in downtown Tampa. They beat four other teams to win.
The competition places college students into five teams, and each team is asked to develop its own mock ad campaign to fix an issue for a nonprofit organization, which must be done in just 48 hours.
"On Saturday, 24 hours before we had to present, we had absolutely nothing," said Rogers, a graphic design major from Allentown, PA. "Everyone thought we were the underdogs completely. I didn't think we were going to finish, at all."
Rogers' team was assigned to Girls Rock Camp (GRC), St. Petersburg, which brings 40 local girls ages 8-17 together to form their own rock bands. Over the course of a week, the girls write their own songs and perform them at the GRC showcase in front of hundreds of people.
GRC wanted to increase participation in their programs, so Rogers' teams was tasked with spreading awareness to teen girls in the St. Petersburg area. The team laid out a realistic budget for the campaign and the timing, and defined the target geographic region and audience.
Each student had their own role: the hustler, who kept the team organized and on track; the storyteller, who did all the copywriting; the visionary and the connecter, who were the main graphic designers; and the architect, who would build the foundation of how everything would line up. Rogers had the role of the connecter.
In order to develop the campaign, Rogers' team researched girls and self-esteem issues, and found that seven in 10 girls feel as though they aren't good enough and that they don't fit in. Their strategy for the campaign, Leave Your Differences Backstage, was to emphasize that at GRC, girls are welcome to be themselves. Their slogan was: "No two rock stars are the same."
After developing the foundation of the campaign, the team crafted a social media strategy to market and advertise on Instagram, made flyers, and designed T-shirts, a poster for the showcase at the end of the camp and a billboard. They also devised a strategy to use a new advertising technology known as geo-fencing, which uses the global positioning of an area to create a boundary. In this case, the team suggested creating a virtual boundary surrounding the area where a billboard of GRC appears. When someone enters the virtual boundary, a notification would be sent to their phone and would give them more information on the camp. By doing this, people no longer have to try and catch what a billboard is saying while driving by — they can just check their phone to learn more about it once they reach their destination.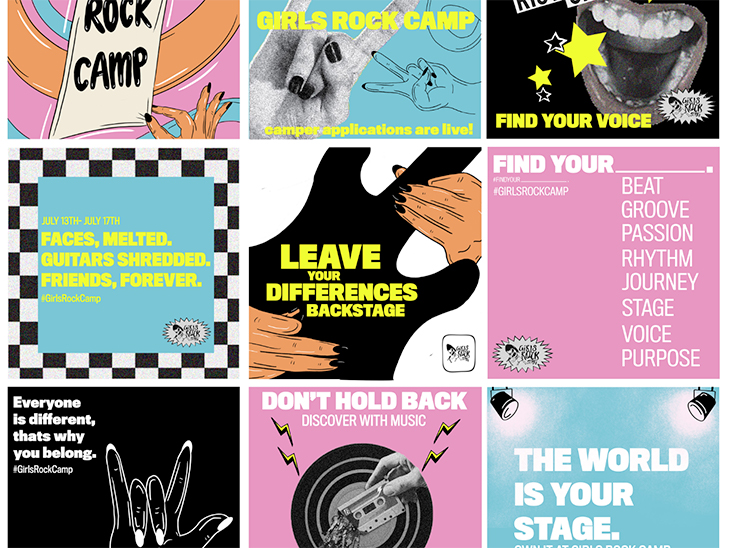 After developing the foundation of the campaign, the team crafted a social media strategy to market and advertise on Instagram, made flyers, and designed T-shirts, a poster for the showcase at the end of the camp and a billboard.
Rogers' team decided to collaborate with the University of South Florida's chapter of Her Campus, an online magazine for female college students that has more than 300 chapters globally where students are able to write and contribute to the magazine. The chapter would host events on campus for participants of GRC, as well as volunteer for GRC events.
"At that age, [teen girls] look up to girls in college," said Rogers.
At the end of the 48 hours, Rogers and her team presented their campaign to executives of GRC, a St. Petersburg artist and the co-director of GRC St. Petersburg.
"The materials that they put out were really in line with what our Girls Rock mission is," said Rachael Sibilia, the founder and co-director of GRC St. Petersburg. "We felt like everything strongly aligned with what we're doing and what we felt like we could achieve."
Sibilia's team will meet with 22Squared by the end of March and then implement most, if not all, of the materials the team created.
"The whole goal is how can GRC St. Pete engage and involve older campers," said Sibilia. "So, what we hope to take from it is getting a broader audience of teenage girls and really be able to engage with them via social media or via our website and advertising materials, so they'll know there's a lot that can be gained from attending."
As the winning team, Rogers took home a $100 Visa gift card, as well as invaluable experience and new skills.
"I have strategies, insights, everything to help me from that experience," said Rogers, noting that both positive and negative feedback from collaborators contributed to her growth. "I think it really opened my eyes."
Story by Mallory Culhane '21, journalism major
---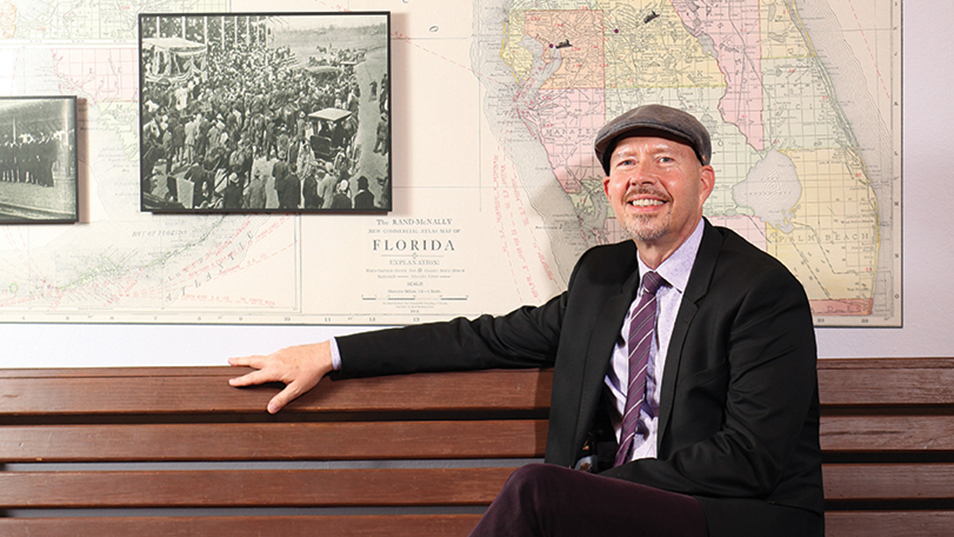 The exhibit is the brainchild of guest curator Charles McGraw Groh, associate professor of history at UT.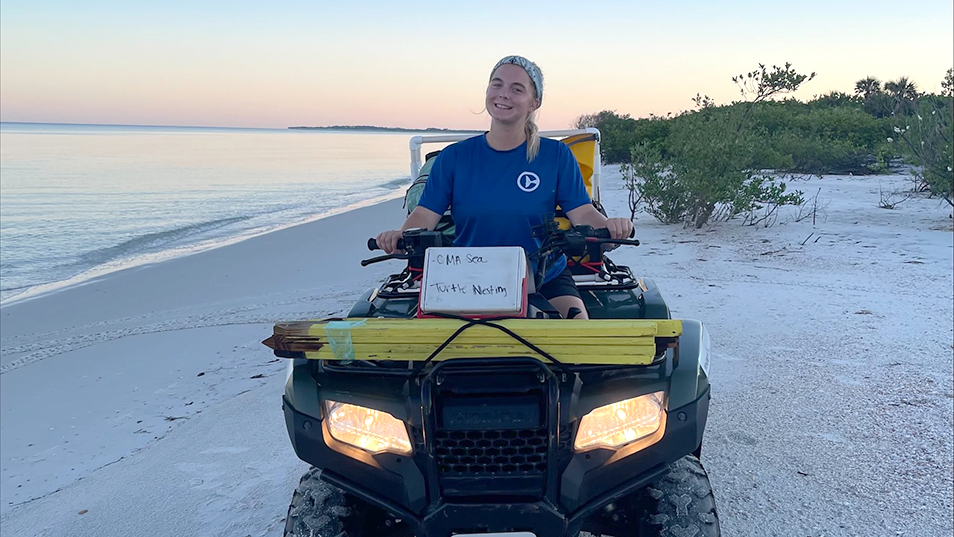 Madison Schorle '22 is working as a nesting intern at the Clearwater Marine Aquarium.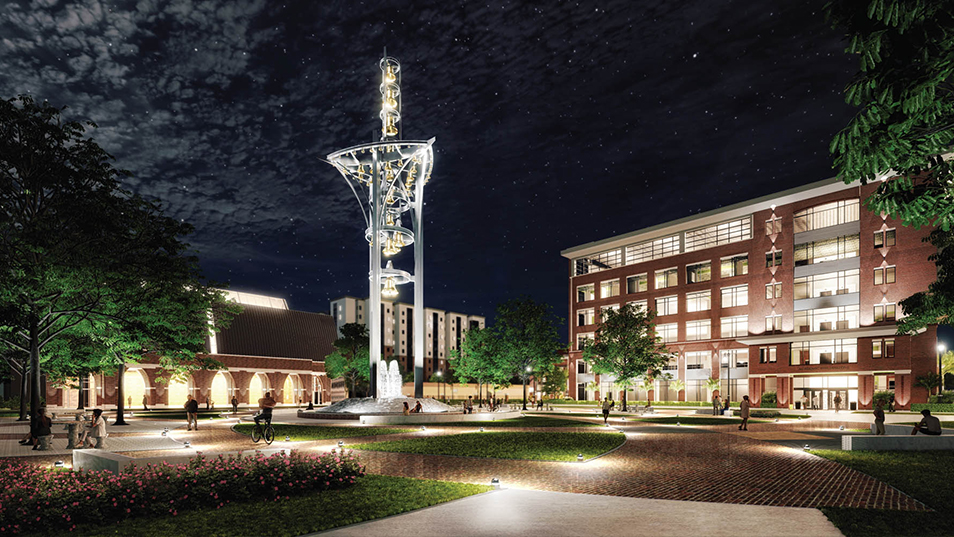 The project includes the world's largest and most sophisticated Ars Sonora® musical sculpture.