Published: February 09, 2018
Geoffrey Canada, Renowned Advocate for Education Reform, to Speak at UT Feb. 20
Geoffrey Canada, a renowned thought leader and passionate advocate for education reform, will speak at The University of Tampa on Tuesday, Feb. 20.

The event, which will be held at 6:30 p.m. in Falk Theatre on campus, is free and open to the public, but reservations are required.

Canada's presentation is titled "Leadership is Only as Great as Those Around You."

Canada is the founder and former CEO of the Harlem Children's Zone (HCZ), which was described by The New York Times as "one of the most ambitious social-policy experiments of our time."

HCZ's array of programs support children and their families along the path to educational and economic achievement. It is "cradle-to-career" support, from The Baby College for new parents, through the Promise Academy K-12 charter schools, to the College Success Office for students in academe. Canada became president of the Harlem Children's Zone in 1990 and served as CEO from that year until 2014. Under his leadership, HCZ has become a national model and the subject of considerable media attention. Former U.S. President Barack Obama modeled the Promise Neighborhoods Initiative with aspects of the HCZ program in communities across the U.S.

In 2011, Canada was named one of TIMEMagazine's 100 Most Influential People and in 2014 he was listed as one of the World's 50 Greatest Leaders by Fortune.

Canada has written two books: 1995's Fist Stick Knife Gun: A Personal History of Violence in America (reissued as a graphic novel in 2013) and, in 1997, Reaching Up for Manhood: Transforming the Lives of Boys in America. He has written op-eds for The New York Times and Daily News, given a TED Talk on our failing schools that was broadcast on PBS, and has addressed audiences around the world about helping children succeed.

The presentation is sponsored in part by the TD Charitable Foundation, the W.S. Pierce Endowment, The University of Tampa and Hillsborough County Public Schools.

To register for the event, go to https://www.eventbrite.com/e/transforming-educational-leadership-series-tickets-42318871885.

For more information, contact Jack Geller, UT dean of the College of Social Sciences, Mathematics and Education, at (813) 253-6262, or jgeller@ut.edu.
---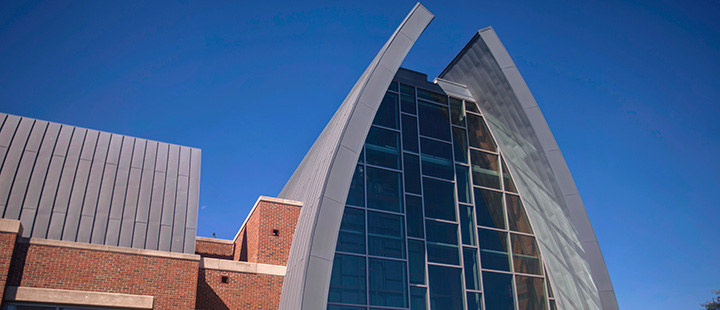 On Sunday, April 8, The University of Tampa's 2017-2018 Sykes Chapel Concert Artist Series will conclude with a performance by the Philadelphia Brass, called "one of the gems of Philadelphia's cultural life" by NPR's Martin Goldsmith. The concert begins at 2 p.m. in the Sykes Chapel and Center for Faith and Values and is free and open to the public.
The concert will have a special emphasis on American music, featuring works by Jennifer Higdon, Aaron Copland, Duke Ellington and Frank Loesser, among others.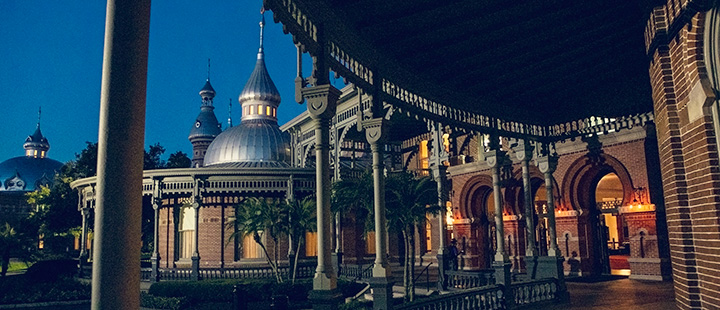 On Friday, March 30, The University of Tampa will welcome pianist Frederick Moyer — hailed by The New York Times as "first-class" and The Milwaukee Journal as "a superstar pianist" — for a guest recital. The concert, which is free and open to the public, begins at 7:30 p.m. in the Plant Hall Grand Salon.
The program for the performance will include works by Franz Joseph Haydn, Ludwig van Beethoven, Felix Mendelssohn, Sergei Rachmaninoff and Oscar Peterson.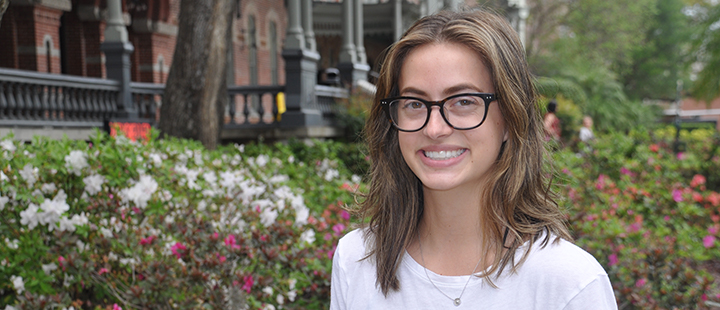 While Mackenzie Harrington '19 is in the female minority in her calculus class, it's the complete opposite situation in her language and linguistics courses for her Spanish major.
"There are a lot of stereotypes and studies that say boys aren't as good in second language acquisition as females," said Harrington, who worked with Assistant Professor Andrew DeMil on the research project, "Gender differences in Spanish Language Learning: Speaking Exams," which they presented at the Florida Undergraduate Research Conference in February and to the UT Board of Trustees March 22.
"We wanted to do a study of our own here at UT. In the previous year (DeMil) had studied reading comprehension of girls versus boys, so we wanted to study speaking this year," said Harrington, of Maple Grove, MN. "The results were the same though. The boys aren't any worse, if not the same, as females. They are just extremely underrepresented."