Published: February 07, 2018
Don't Miss UT's Spring Dance Concert Feb. 15-17
The University of Tampa will present its popular Spring Dance Concert Thursday, Friday and Saturday, Feb. 15-17, at 8 p.m., with a Saturday matinee on Feb. 17 at 2 p.m. All performances are at UT's Falk Theatre on Kennedy Boulevard opposite campus and are free and open to the public.

The annual Spring Dance Concert features choreography by UT faculty and guest artists, with performances by UT students. Dance styles include ballet, modern, contemporary, tap, musical theatre and a Wizard of Oz-themed hip hop piece.

"The diversity of the Spring Dance Concert is its great strength," said Susan Taylor Lennon, UT professor of dance. "We feature a broad range of dance styles and choreographers, and our students are from a wide range of cultural backgrounds as well. This concert is a feast for dance lovers, or even people just wanting a taste of dance."

One highlight of this year's performances will be Sirenic, choreographed by internationally renowned dancer, teacher and choreographer Jon Lehrer, which explores what it means to be feminine in its most powerful manifestations and utilizes music by DakhaBrakha, a group of musicians from Ukraine.

Linearity vs. Circularity, choreographed by University of South Florida graduate Ethan Barbee, seeks to help dancers better understand the science of movement and to help scholars better understand and appreciate dance.

UT Assistant Professor of Dance Susannah LeMarquand's piece features music and dance styles from the 1980s, and fellow dance faculty member Heather Ahern's dance includes text from people who are frequent fliers with tales of their experiences in and around airports.

Other choreographers include UT dance faculty Mary Chase Doll, Susan Taylor Lennon and Kyle White; artistic director of Collective Soles Dance Company Alex Jones; and UT graduate student Anthony Nicolo.

For more information, contact Lennon at (813) 257-3745.
---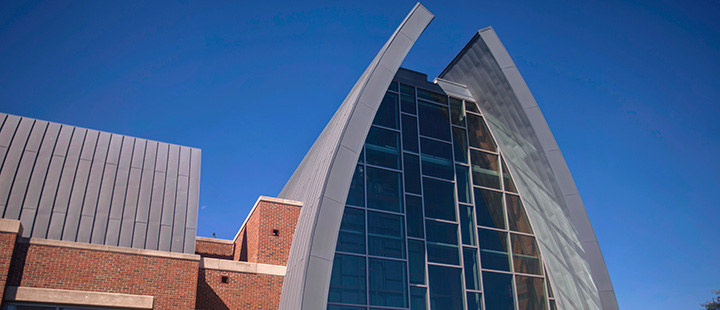 On Sunday, April 8, The University of Tampa's 2017-2018 Sykes Chapel Concert Artist Series will conclude with a performance by the Philadelphia Brass, called "one of the gems of Philadelphia's cultural life" by NPR's Martin Goldsmith. The concert begins at 2 p.m. in the Sykes Chapel and Center for Faith and Values and is free and open to the public.
The concert will have a special emphasis on American music, featuring works by Jennifer Higdon, Aaron Copland, Duke Ellington and Frank Loesser, among others.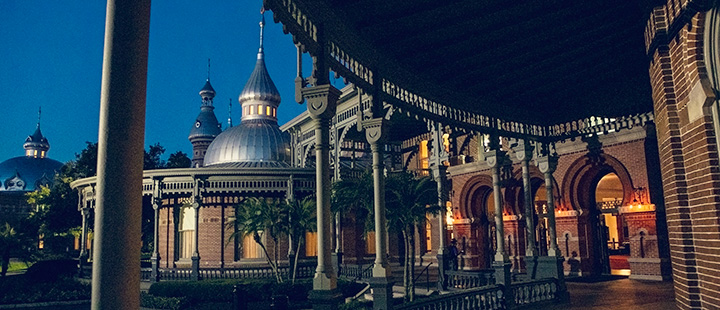 On Friday, March 30, The University of Tampa will welcome pianist Frederick Moyer — hailed by The New York Times as "first-class" and The Milwaukee Journal as "a superstar pianist" — for a guest recital. The concert, which is free and open to the public, begins at 7:30 p.m. in the Plant Hall Grand Salon.
The program for the performance will include works by Franz Joseph Haydn, Ludwig van Beethoven, Felix Mendelssohn, Sergei Rachmaninoff and Oscar Peterson.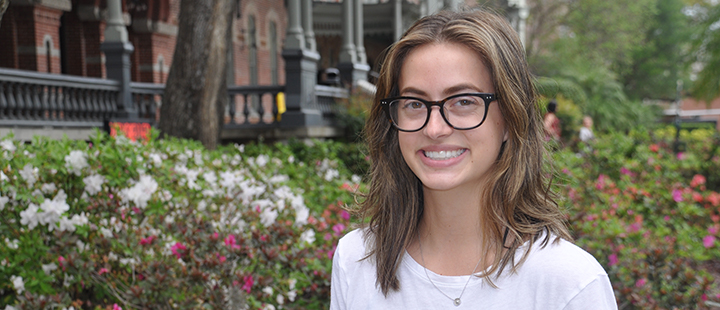 "There are a lot of stereotypes and studies that say boys aren't as good in second language acquisition as females," said Harrington, who worked with Assistant Professor Andrew DeMil on the research project, "Gender differences in Spanish Language Learning: Speaking Exams," which they presented at the Florida Undergraduate Research Conference in February and to the UT Board of Trustees March 22.

"We wanted to do a study of our own here at UT. In the previous year (DeMil) had studied reading comprehension of girls versus boys, so we wanted to study speaking this year," said Harrington, of Maple Grove, MN. "The results were the same though. The boys aren't any worse, if not the same, as females. They are just extremely underrepresented."