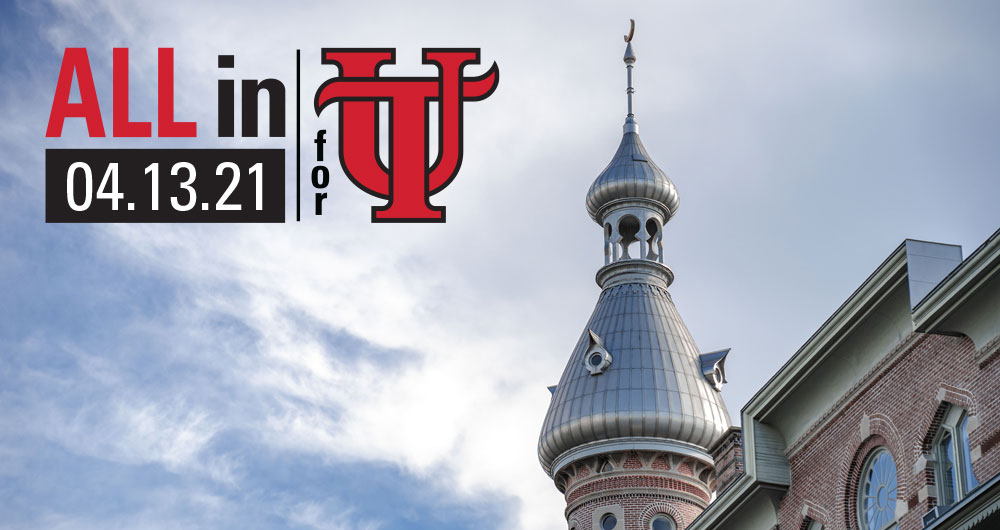 #ALL
in

for

UT

on April 13, 2021

Over the course of 24 hours, Spartans worldwide will show their spirit by joining in, logging on and donating to The University of Tampa #allinforUT Give Day experience.

The day will feature virtual tours of new buildings, social media prizes, online webinar prizes and an insider's look at programming and departments.

Over the next month, we will be adding and updating the events to celebrate #allinforUT. Check back for more!

Already have plans on April 13? Visit ut.edu/giving and make your matching gift now.

Virtual Events Schedule
7 a.m.
Tour of the Ferman Center for the Arts
8 a.m.
Hear how Michael Houlihan and Bonnie Harvey Built America's #1 Wine Brand — Barefoot Wine — with

Rebecca White, Ph.D.,

Walter Chair of Entrepreneurship, Professor of Entrepreneurship and Director of the John P. Lowth Entrepreneurship Center, on the En Factor Podcast.
8:30 a.m.
LIVE update with @UTampaDev on Facebook
9 a.m.
University Update with President and First Lady
Join us for an interactive virtual event with President Ronald Vaughn and his wife, Renée.
11 a.m.
From Classroom to Boardroom: How to go from UT Student to UT Alumni Board
In this interactive discussion, learn how UT Alumni Board members got their start at UT and how the experience changed their lives. Included are Alumni Board members Gregg Canty '92 (DC), Christina Hurley '88 (Boston) and Alumni Association Board Chair, Monica Cook '05, M. Ed. '12 (Tampa).
12:30 p.m.
From Classroom To Boardroom: How To Go From Student To UT Board of Trustee
In this interactive discussion, learn how UT Board of Trustee members got their start at UT and how the experience changed their lives. Included are Charlotte F. Baker, Thomas Graham '82, Jim MacLeod '70 and Benson Riseman '78.
1 p.m.
CALapalooza
Join UT music students and faculty for a live performance, hosted by David Gudelunas, Ph.D., dean of the College of Art and Letters, at the Ferman Center for the Arts.
1:30 p.m.
LIVE update with @UTampaDev on Facebook
2:00 p.m.
What are the UT Board of Fellows (BOF) and UT Board of Counselors (BOC)?
Join the current chairs Penny Parks '93 (BOF) and Katie Martinez (BOC) and learn more about how you can get involved with these groups. Whether to expand your business network or deepen your connection to UT, there is something for everyone.
2:30 p.m.
UT Faculty and Staff Reunion
Join former and current faculty and staff employees for an opportunity to reconnect virtually with former colleagues. This session is only open to current or former UT faculty and staff. Guests include Barbara Holmes, Robert Ruday and Joseph Sclafani, Ph.D.
3 p.m.
Brain Gains
Join assistant professor of biology Pavan Rajanahalli, Ph.D., and associate professor of biology Padmanabhan Mahadevan, Ph. D., as they share findings on chronic traumatic encephalopathy and how bioinformatics tools will help stem cell research to find cures faster for deadly diseases.
4:45 p.m.
LIVE update with @UTampaDev on Facebook
6 p.m.
A Life-Changing Legacy
Recently featured in the UT Journal, fraternity brothers Devin Derenoncourt '09, Dr. Marlon Hanley '06, David Ramnarine '09 M.S. '16, Jamal Wilburg '06, M.S. '14 and Michael Williams '09, MSN '16 will share the inspiration for establishing the Alumni Bridging Gaps Scholarship. Hosted by Stephanie Russell Krebs, Ph.D., vice president for student affairs and dean of students.
Spirit Week
Keep your Spartan spirit up all day by participating in our Give Day challenges! Your perfectly timed generosity, location in the world or social media post makes a difference while giving you the opportunity to win a prize! If you have any questions about how the challenges work, contact annualfund@ut.edu. Good luck!
12 a.m. First Gift
Set your alarm for 11:59 p.m. on April 12, 2021, and get your credit card ready! Whoever makes the first gift on April 13 wins.
11:59 p.m. Last Gift
The donor who makes the last gift on April 13 wins.

90th Donor
In honor of UT's 90th anniversary, the 90th donor wins.
Youngest Alumni Donor
We love when UT alumni give back to current and future UT students! Our youngest alumni donor will win.

Furthest from UT
Spartans stretch far and wide, finding success all over the world! The donor who gives a gift furthest from UT's campus wins.
#AllinforUTChallenge
Don't forget about UT's #allinforUTchallenge! Show your Spartan spirit with a social media post, song, dance, special memory or what UT means to you! Use #allinforUTchallenge, tag @ufotampa, and share www.ut.edu/allinforut! Prizes will be awarded to most creative, most school spirit, and a randomly selected participant from Facebook, Twitter, Instagram, LinkedIn and TikTok!
---
What is #allinforUT?
#allinforUT is UT's annual give day devoted to giving back and showing how we can support the University. As a private University, UT depends on the philanthropic support of the community it serves. Because the University cannot be sustained by tuition alone, all donations are greatly appreciated and will be used to continue a tradition of academic excellence. All gifts, regardless of size, make a difference. Together, we can positively impact UT now and for years to come. This April, join us and go #allinforUT.
Contact annualfund@ut.edu for additional information.
Spartan Ambassador Toolkit
Interested in becoming a Spartan Ambassador? Download the following social media graphics, and post them to your feed in preparation for give day and use #AllinforUT.





Instagram Image UT Statue Cover Photo Aerial Cover Photo Hammock Cover Photo Spartans Cover Photo
---
---
Challenge Gifts
Annual Scholarship
All gifts by parents of current UT students will be matched by current UT Family Association board members up to $25,000. This fund supports the Presidential, Dean, Minaret and Spartan scholarships.
Annual Fund – Area of Greatest Need
All gifts to this fund will be matched dollar for dollar up to $5,000. This fund supports the University's most urgent and pressing needs.
Baseball
All gifts to the UT baseball program will be matched 2:1 up to $10,000. For every dollar donated to baseball, it will be matched by two dollars.

MBA Scholarship
All gifts to the MBA Scholarship Fund will be matched dollar for dollar up to $5,000.
Stem Cell Research
All gifts to this fund will be matched dollar for dollar up to $5,000 to support research on stem cells at UT.
Lowth Entrepreneurship Center
All gifts to the John P. Lowth Entrepreneurship Center will be matched dollar fot dollar up to $10,000.